A Minnesota Couple's Destination Wedding
Posted by Lauren Travan November 20, 2012
It was the 2010 Olympic and Paralympic Games in Vancouver and the first trip that Ginny and Dwight, from Minnesota, took as a couple. The magic of that time and that trip deepened their romance and created a new one - with the city of Vancouver.

"We fell in love with Vancouver. We wanted a place for our wedding that truly showcased the city and its surroundings. Grouse fit the bill, we looked at a couple other places but Grouse was the unique experience we wanted for our guests who were travelling from all over the US to celebrate with us"
One of Ginny and Dwights favourite activities to do together is travel and they hoped by having a wedding at Grouse Mountain that their guests would also experience Vancouver while they were here.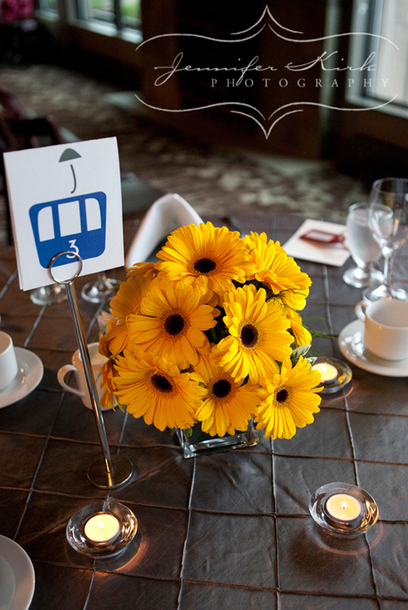 This theme of "travel" was also reflected throughout the day. "We had welcome bags full of things to do and see in Vancouver. We used small suitcases to hold programs and cards. Our invitations had mountains and even the Skyride made an appearance on our invites and table cards."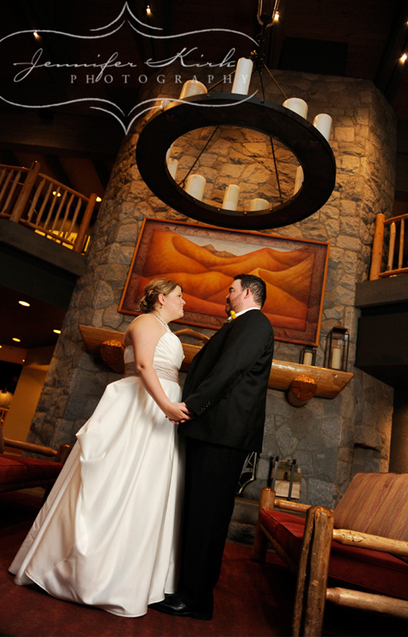 "The food....we still talk about the food and by we, I mean us as well as all of our friends and family. We chose the buffet and it was delicious, with so much food and such a variety to please every guest. The atmosphere at Grouse was perfect, intimate and special. Our guests loved it and kept asking how we had found such an amazing venue. We feel very lucky that we got to have our wedding day up at Grouse Mountain."
Ginny and Dwight also love when couples have favours that are useful, so that was very important to them when deciding what to give there travelling guests. "To go along with our travel theme, our favours were luggage tags that also doubled as guests place cards. We also had sunglasses that guests LOVED during the dancing. They were a huge hit."
What advice do Ginny and Dwight have to say to our future brides and grooms?
By far their biggest advice would be to get a day-of wedding coordinator. We used Candice Jones from A Day to Remember and she was fabulous. I also think selecting vendors who are excited to be working a wedding at Grouse Mountain is very important due to the unique location.
We are thrilled that Ginny and Dwight chose Grouse Mountain for their special day and we hope we will be seeing them up here again the near future.
Photos by: Jennifer Kirk Photography