A Snowy December Reception
Festive fun in a snow-filled wonderland
Posted by Lauren Travan January 9, 2013
Amanda and Richard have been passholders here at Grouse Mountain since the first winter the couple started dating. So naturally when they decided to have a winter wedding, there was no better place than Grouse Mountain in December.
The newlyweds celebrated by holding their wedding reception in Altitudes Bistro with around 100 guests. Altitudes was dressed with simple centerpieces and the couple named the tables after the runs on the Mountain. Cool shades of blues accened the space in keeping with the wedding colour palate.
"Last year we decorated our Christmas tree in different shades of blue and silver, and that's when we decided those colors would be perfect. We didn't have to match everything to one specific shade of blue, so it made finding decorations quite easy."
Amanda and Richard integrated touches reflective of their special connection including having guests sign a snowboard instead of a guest book.
"We wanted something different, that we could either use, or put on display in our home. Being snowboarders, we thought this idea would be absolutely perfect."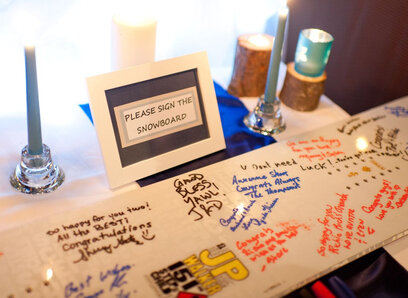 Snow holds a special significance to Amanda and Richard. Amanda's father passed away in 2009. On that day just moments before he passed, it started snowing heavily.
"Every time it snows, it reminds us that even though he's not here, he's sending his love down to us in each and every snowflake. Being up on Grouse on my wedding day, surrounded by the fresh snow, and then the added touch of the snow that started falling... it was absolutely perfect!"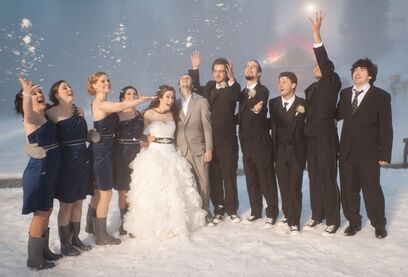 Amanda and Richard - congratulations on your nuptials and thank you for sharing your special day with the team at Grouse Mountain. Long may you ride together.