A Magical Winter Wedding At The Peak of Vancouver
Posted by Lauren Travan December 6, 2012
Six years may have gone by but Amy Powter from Seattle remembers her magical winter wedding here at Grouse Mountain like it was yesterday. Her spectacular winter wedding in December of 2006 was blessed with fantastic white snow on the ground and breathtaking views of the city from the Timber Room.
Amy and her husband were living in Seattle before their wedding and decided that Vancouver was the perfect location not only because they both shared a love of the city but it was also where they got engaged. They looked at a variety of different wedding venue options but as Amy describes it the minute they stepped off the Skyride they knew there was no competition. "Nothing could compare to the unique experiences and amenities that Grouse provides. Sleigh rides, ice skating, skiing, amazing food and such much more. We figured this was also the best way to showcase the city and give our guests and ourselves a night to remember."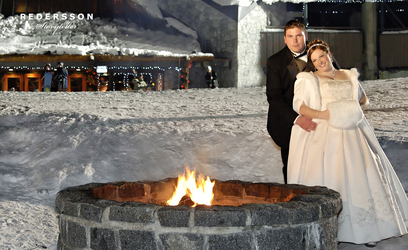 Amy and Anthony both share a love of all things winter so finding a venue that showcased winter was paramount. Grouse Mountain provided the canvas, service and facilities - a foundation for a magical day. "We were able to get married at the cathedral downtown and then in about a half hour we were on top of the mountain overlooking the city and beyond, incredible - and no driving in the snow either!"
"It was such an incredible and unique experience choosing to have a winter wedding that guests who were in attendance still rave about the wedding whenever we see them. Who else can say they arrived via Skyride to a wedding reception in the snow looking over a foreign city?"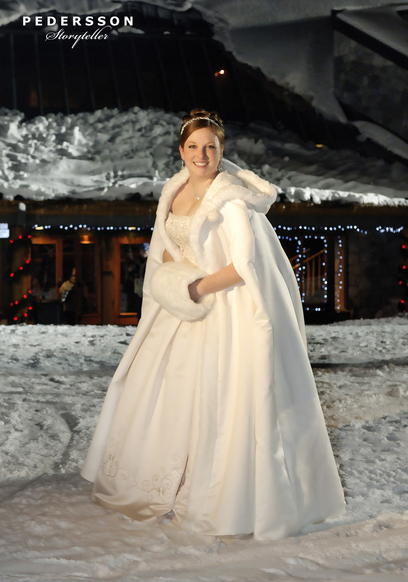 What were some of their winter wedding highlights?
"From the Timber Room deck, you could see for miles and the lights of the city danced as if you might reach out and touch them."
"My bridesmaids and I each had a faux fur shrug which we wore for pictures and in the church, which were made by a dear family friend. My gifts to my bridesmaids were sheepskin boots to wear up at Grouse Mountain under their gowns."
"Being able to take pictures and play in the snow and even venture out on the ice rink! The city and mountain were all decorated for the holidays. It just added to the magical feel - as if the entire city, as well as Grouse, had been decorated just for us!"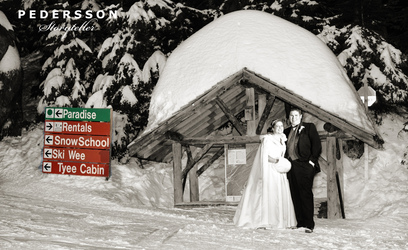 "I had always pictured myself getting married in the winter and Vancouver and Grouse Mountain made all my dreams a reality. It truly was a winter wonderland wedding."
Thank you to David from Pedersson Storyteller for contributing images and of course to Amy for sharing your experience with us. We look forward to seeing you and your growing family here for a return visit in the near future.