Andrea & David's Wedding
A very special day for two members of the Grouse Mountain family
Posted by Andrew Cooper September 14, 2011
Every day I get to work with many brides organising their big days at Grouse Mountain. It is not very often that I get to also participate and enjoy the day as a guest!
Andrea & David have both worked at Grouse Mountain at various times over the last few years, which is how they came to meet! So it was fitting that they celebrate their union here too.
It was a beautiful mid-afternoon ceremony given in two languages (David is from Germany) and held at a local church where Andrea's father is the minister. Guests then made their way to Grouse Mountain for a spectacular evening reception in the Timber Room.
The room was decorated with bright, cheerful colours of green and yellow, and red lady bugs as highlighting touches. David had asked me to help with a surprise; we secretly sent up a box of traditional lederhosen and, following the first dance, David and some family members crept away to get changed. It was a fantastic surprise for Andrea, and the rest of the guests!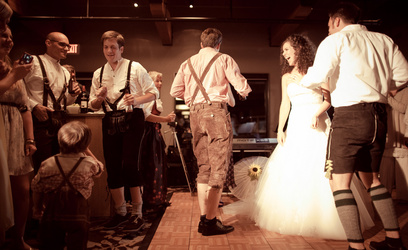 It was a pleasure to work with Andrea and David to make their day a special one, and an honour as a friend to be part of the day too! I wish them all the best together.
Photos by: Elle&R Photography