Winter Wedding Memories to Last a Lifetime


Posted by Lauren Travan February 19, 2013
Carly and Peter have shared a love for Grouse Mountain over the years. This Canadian/Australian couple built wonderful memories atop Grouse Mountain - choosing Grouse as their wedding venue was a natural extension of their relationship with each other and this special place.
"Both Peter and I love skiing & snowboarding and hockey, so we made many trips up to Grouse because it offered the best of both worlds: a great mountain to ski, so close to the city, and a great restaurant to watch our favourite sport. "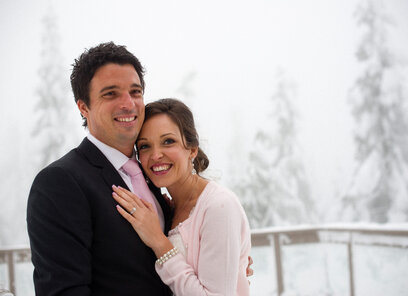 Carly and Peter met in the Gold Coast, Australia when Carly was visiting warmer climates. The two kept in touch, fell in love and shortly after "I had my bags packed and I was on a plane to Australia to see the love of my life." Now, almost 5 years later the couple reunited with family and friends from all over the world for their destination wedding on the Peak of Vancouver.
"We were so excited to share one of our favourite Vancouver locations with our family and closest friends. "
With assistance from amazing family and friends, Carly created special touches to put the couple's stamp on the day. Burlap and lace table runners were hand sewn by Carly's mother and family friends cut tree rounds for the centre pieces. Heart- shaped chalkboards were tied around jars holding an assortment of beautiful greenery and white flowers to designate tables.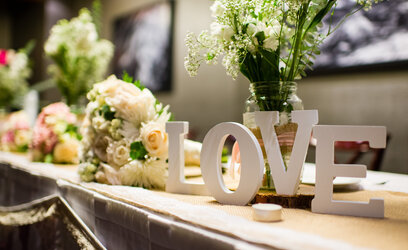 "One of our favourite keepsakes was our guest 'map'. Being lovers of travel, we opted for a funky world map which our guests signed with messages of love, advice and kind words. We have brought the map back to Australia and framed it. I love reading the messages daily. "
The wedding party consisted of three Canadians and three Australians. "Watching the Australians skate left us with stitches in our stomachs. Our amazing photographer (Priscilla Locke Photography) captured these moments so perfectly. We had the best time!!! If only we could relive the day!"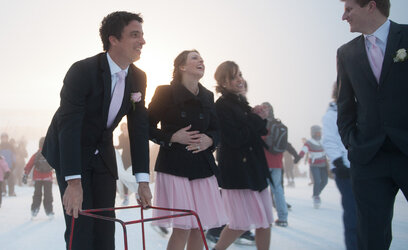 "When I received the menu to select food from, the options were nearly endless. Moreover, I loved how it featured BC seafood and local wines. It was nice to offer our visiting guests local salmon and other seafood. I also noticed Grouse Mountain uses sustainably caught seafood. I loved the 'greenness' of the menu. The guests spoke endlessly of the selection and flavour of the food. It was delicious!!!! "
Congratulations Pete and Carly on your special day - spectacularly captured in photos, your mind's eye, and ultimately your hearts.
Cake and Cupcakes: Stafford Events