Diana & Colin's Wedding


Posted by Andrew Cooper August 10, 2012
We met Diana & Colin only a handful of weeks prior to their big day. They were looking for an intimate wedding ceremony and reception. The Timber Room & Deck was the perfect venue.
After their wedding, I had the opportunity to ask them a few questions about their big day and priorities associated with their wedding:
How did you two meet?
We wish it was more interesting - but we met online. Our first date was at an Ethiopian restaurant - Harambe.

Why did you choose to have your wedding at Grouse Mountain?
We chose Grouse Mountain because it is unique, beautiful, and representative of Vancouver and the west coast. We came up to view the site and location and just fell in love with it. We also loved that we could do everything in one spot (the ceremony and the reception), and all the choice we had in terms of the menu. We were so happy to have found Grouse!
Did you have a theme?
We didn't really have a theme - but we did want to include our daughter in the ceremony. She was included in the vows, and Colin and Kylie did a necklace exchange and signed a certificate together.
We also really wanted to have a simple, natural feel to the wedding, which the Timber Room and Timber Deck did a lot to help us create. We simply had to bring flowers, favours and a cake.
A tip for future Brides at Grouse Mountain?
Bring a mirror for changing. There is plenty of room to change in the back, but you do need to bring a mirror. :) And leave yourself enough time to change between set-up and ceremony. Make sure you plan that in!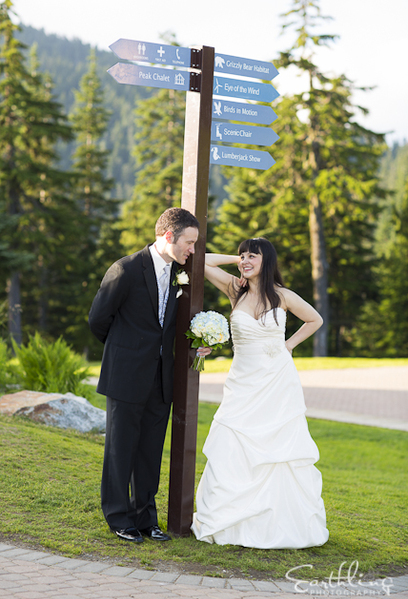 Any final comments or recommendations?
Grouse Mountain is so beautiful and full of things to do. Make sure you tell your guests to come up early and enjoy all the activities on Grouse Mountain. And let them know they can go and look around while you are doing your pictures between the ceremony and the reception.
The staff were fantastic and made everything so easy! Everyone involved was incredibly helpful and accommodating! It made everything go smoothly and even though we had very little time to prepare our wedding (5 weeks from booking to ceremony), we never felt worried. The staff at Grouse made sure everything ran smoothly, and Andrew helped so much with listing and charting everything for us in the meetings we had. We came up for a tasting and the chef even came out and spoke to us about every menu item. Our food was absolutely delicious and everyone loved it - and the venue. Our guests really loved everything too.