Grouse Mountain Skyride Inspired Wedding Cake
Posted by Lauren Travan November 29, 2012
This season we had many spectacular weddings, with themes and décor that reflect the beauty that is the mountains and the city of Vancouver. One couple in particular, wanted to create a wedding cake that was modern and unique, and that would reflect the one–of –a-kind location of their wedding here on Grouse Mountain.
"With many of the guests coming in from out of town, a cake that reflected the beauty of Vancouver was the perfect choice. From the city skyline to the miniature Red Skyride going up the snow capped mountains to BC's official flower the dogwood, this cake was so much fun to design and put together." Anna - Cake Decorator.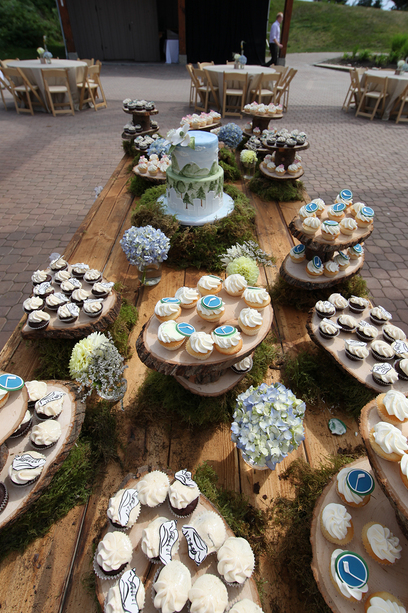 The couple also had cupcakes created that were fun and reflected their personalities and favourite things to accompany the wedding cake. Cupcakes for the gentlemen incorporated Canucks logos and running shoes. The female themed cupcakes had hand painted rice paper butterflies and miniature sugar blossoms.
"With more than one tasty treat to choose from, we were able to have fun with the flavours as well with a combination of lemon cake with white chocolate buttercream and chocolate cake with peanut butter buttercream." Anna - Cake Decorator