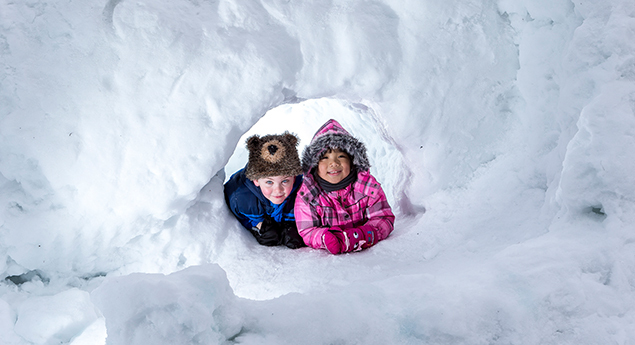 Junior Camps Single Day (5-7)
Starting at the base all the way to the Peak, there is a whole world to explore on Grouse Mountain. A full day of fun for your junior camper awaits. Choose to register for a single day or give your Junior Camper the full week experience and save.
Rates
$280 - 5-Day Camp
$65 - Single Day
After Camp Activities
Extend your child's day to 4:30pm with games and activities. $12/day.
Junior Lunch Option
A daily kid-friendly lunch with vegetarian and gluten-free options available upon advanced request. $9/day.

Dates & Time
March 18-22
March 25-29
8:30am-3:30pm
Monday - Alpine Fun
Let your imagination run wild with the creation of a snowman village. Warm up inside with craft time and storytelling before going for an afternoon skate.
Tuesday - Mountain Discovery
Learn what to do if you get lost on a mountain and how to be responsible in an alpine mountain environment. Then grab your snowshoes and go explore, putting new lessons to actions. Finish the day by baking your own bread on a stick.

Wednesday - Wildlife Discovery
How do Snowshoe hares stay warm? Where do owls go in winter? Discover the wonders of winter wildlife, meet our resident owl and learn how the Mountain's wildlife gets ready for winter. We will then search for some of Grouse Mountain's more elusive creatures!

Thursday - Slide and Glide
Whether on a sled, in ice skates or slipping down our homemade slide, we encourage campers to find their inner penguin! All good sliders know the value of warming up, with this in mind we will regularly fuel with hot chocolate, and indoor crafts including a mini curling activity.

Friday - The Final Feast
Every good feast starts with a friendly completion. Get ready, for a winter Scavenger Hunt as camp groups race to solve riddles and complete the course first! Celebrations will follow as we build a snow table and benches and decorate with ice lanterns before enjoying a long-table style, camp feast!