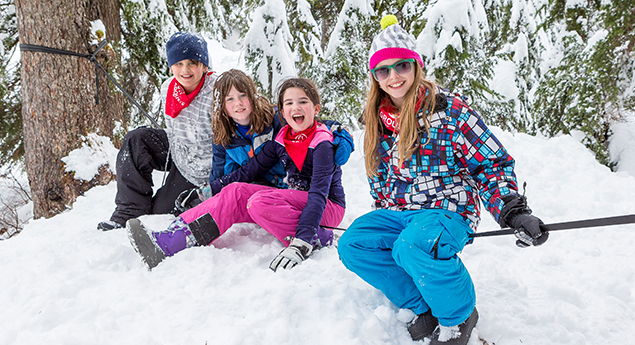 Kids Camp (8-12) - SINGLE Day
Experience the magic of the Mountain! Led by our experienced Grouse Mountain Camp Leaders, our camps offer a unique world of excitement Monday through Friday. This fun and active experience for kids will teach outdoor survival skills, environmental awareness/appreciation, cultural awareness and knowledge of wildlife biology.
Rates & Info
$280 - 5 day camp

$65 - single day
After Camp Activities

Extend your kid's day with additional games and activities from 3:30-4:30pm. $12 per day.

Daily Lunch Option
A daily kid-friendly lunch with vegetarian and gluten-free options available upon advanced request. $12 per day.

Dates & Time:
March 18-22
March 25-29
8:30am-3:30pm

Monday - Winter Survival
Imagine a snow fort with 6 slides, 2 caves a tower and a tunnel! Last year's campers, designed and built an inspiring snow village - This winter we welcome an igloo expert to lend a hand! Other activities include sliding, making fire by friction, and a survival skills based snowshoe adventure.
Tuesday - Mountain Rescue
See what it takes to be mountain patrol, explore the back-country, try slack lining and team up to complete a rescue scenario. Finish with ice skating and baking bread on a stick.

Wednesday – Winter Wildlife
Get ready for a day of animal antics! Meet Blizzard our resident Snowy Owl, search for winter wildlife, and test your tracking skills as you search for our bear mascot hidden in the woods!

Thursday – Hide and Slide
Consider speed, trajectory and banked turns as you build a mini luge track, then hop on a sled and put your snow science to the test. After we slip and slide it is time for Capture the Flag and a little skating.

Friday - The Final Feast
Every good feast starts with a friendly completion, so get ready for a cardboard sled challenge! While groomers prepare the hill, groups will construct a sled in hopes to slide into first place! Celebrations will follow as we build a snow table and benches, decorated with ice lanterns before enjoying a long-table style, camp feast.