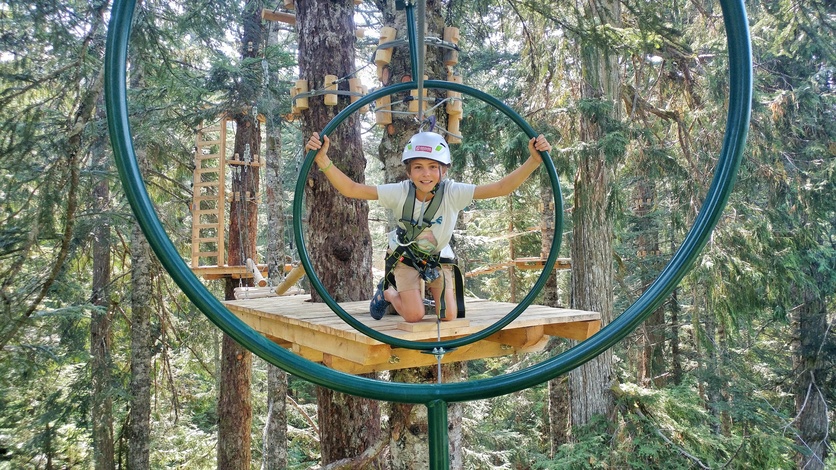 Mountain Ropes Adventure Camp (10-14)
Join us for an adventure day camp in the tree tops! Campers will explore our brand new mountaintop ropes course! This new adventure gets campers exploring the Mountain's forest from high in the tree canopy. With suspended bridges, ziplines, ladders and nets the course offers a series of four aerial ropes courses full of excitement, challenge and fun!
Dates:
Camp A: July 2–July 4
Camp B: July 9–11
Camp C: July 16–18
Camp D: July 23–25
Camp E: July 30–August 1
Camp F: August 6–8
Camp G: August 13–15
Camp H: August 20–22
Camp I: Aug 27–29
8:30am-3:30pm
Price:
3 Day - $235
The meeting area and drop-off location for your camp is at the base of the mountain by Starbucks. On arrival please head to a sign that reads Mountain Ropes Adventure Camp. A camp leader will assist you from here.

FAQ
Q: Who can join this camp?
Are there age restrictions?
A: Although the Mountain Ropes Adventure is open to those 8+ this camp is designed for campers 10-14 years old. Regardless of age camper must be 122cm or 4'00" to participate
Q: Do you need experience? Do you need to be physically fit?
A: No previous experience is required and participants will be briefed by trained staff prior to starting the activity. Mountain Ropes Adventure is a series of four courses, where each course increases in difficulty. The higher level courses do require a reasonable physical fitness.
Q: Do I need to wear anything special?
A: We suggest comfortable athletic clothing suitable for the weather as tours operate rain or shine. Close-toed shoes are required and long hair must be tied back. All necessary safety equipment is provided including climbing harnesses and helmets.
Q: How much time will campers spend on the course as part of this camp?
A: Campers will have the support of camp leaders to guide them through the 4 levels of the course through this 3 day camp.