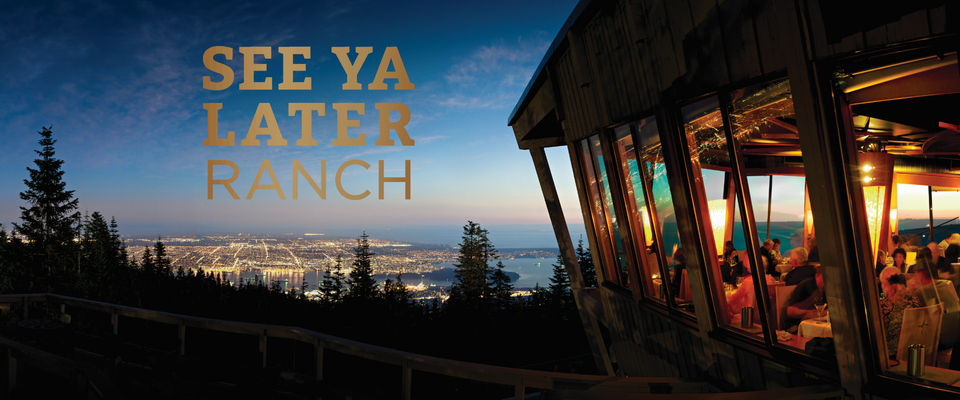 WineMaker's Dinner - See Ya Later Ranch
Join See Ya Later Ranch Winemaker, David Saysomsack, for an intimate 5-course winemaker's dinner atop Grouse Mountain. Located in the Timber Room, there are nothing but stunning mountain and city views awaiting you.
Event Details:
Date: Friday, January 26, 2018 Time: 6:30pm - 10:00pm
Where: The Timber Room, Grouse Mountain Chalet
Cost: $95 + tax and 18% gratuity per person - Alpine Experience admission tickets are complimentary for each member in your party with advanced reservation. Prices do not include taxes or gratuity.
Menu:
TBC
Wine:
Brut: A dry sparkling with lively acidity and flavours of crisp orchard fruit and freshly baked bread that resonates from start to finish.
Pinot Gris: Good colour with light pink salmon overtones, on the nose rich and complex aromas of vanilla, peach pit and spice that are consistent with the flavours found on the palate.
Pinot Noir: An elegant Pinot Noir, with aromas of black cherries and the mild essence of oak. On the palate rich strawberry and sweet tobacco flavours lead to an amazingly intricate finish.
Major's Block (Red Blend): On the nose bright red fruit, floral notes and hints of vanilla. On the palate ripe blueberries followed by dried red fruit and a touch of spice on the finish.
Ping (Meritage): Aromas of dark plum and cherries permeate from the glass followed by spice and vanilla flavours that flood the palate.
Chardonnay: Aged in 60% French and 40% America oak for 6 months, this full-bodied Chardonnay is rich with aromas of melon, orange rind, butter and vanilla.

Winemaker Biography:
Hometown: Born in Laos, raised in Abbotsford, BC
1999: Began making wine at home
2008: Moved to Ontario to attend Brock University to pursue his passion of winemaking
2009: Employed at Reif Estate Winery in Niagara-on-the-Lake
2010: Assistant Winemaker at Megalomaniac Winery in Vineland, ON
2011: Received an Honour's Degree in Oenology and Viticulture from Brock University
2011: Moved back to BC, became Head Winemaker at Pacific Breeze Winery in New West
2013: Moved to the Okanagan for Constellation harvest as a lab technician 2014: Assistant Winemaker at Awatere River Winery, Marlborough, New Zealand
2014: Head Winemaker at Burrowing Owl Estate Winery, Oliver, BC
2015: Winemaker for See Ya Later Ranch
Quote: "I collect the essence of any given year and preserve it in a bottle to be enjoyed as a treasured memory. After a vintage is gone, there can never be another one exactly like it, which makes it even more precious." Fun Fact: David and his wife, Shari, have 4 children aged 2, 6, 8 and 9. His proudest accomplishments in life are his family, and his degree.