Snowshoe Clinics
A clinic for every level of snowshoe enthusiast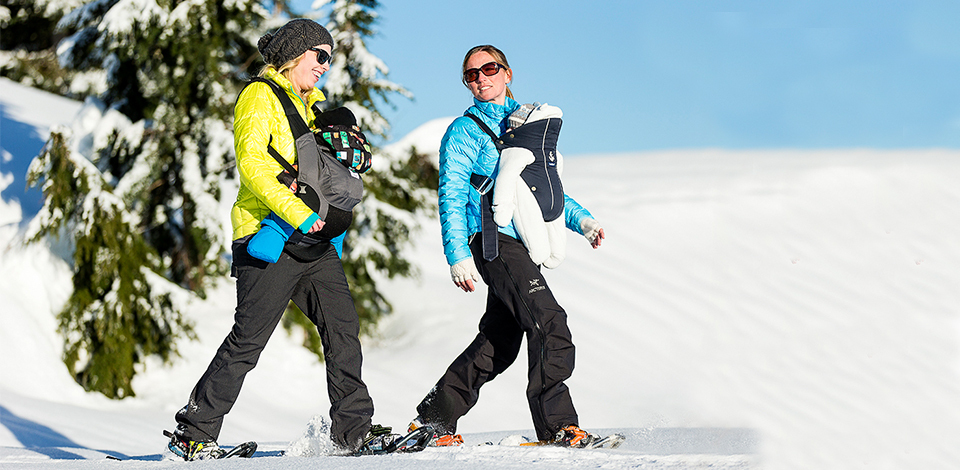 Baby & Me Snowshoe Clinic
Our guides will lead parents with their babies on a 1.5 hour snowshoe tour followed by tea and snacks back in the warmth of our mountain top Chalet. Enjoy a fun, relaxed tour that will get you outside for exercise - and meet other parents and babies.
Clinic Dates & Times
Thursdays, 10:30am-12:30pm
Jan. 3, 10, 17, 24
Feb. 7, 14, 21, 28
Mar. 7, 14, 21, 28
Price
$89/4-Session Clinic
$185/4-Session Clinic + 1-Year Membership
Includes rentals, tour guide and entry into the annual Snowshoe Grind® Mountain Run in February. Price does not include Mountain access. Participants must have a valid Pass or a Mountain Admission Ticket for each clinic date. Please call 604.980.9311 for more information.
Frequently Asked Questions

How do I book in to this group?
Call the Call Centre on 604.980.9311 or visit Guest Services.
Where will the group meet?

The group will meet at the top of the mountain inside the chalet by the fireplace. Please be on the 10:00am Skyride from the base for arrival at the top of the mountain by 10:15am.
Is there a place we can leave our bags?
Yes, when we have a trail orientation we will visit the location where bags can be left.
What age is best?
All babies and parents are different however it is recommended that babies are at least eight weeks and not older than 24 months. Older babies may not want to be carried for the duration of the session and younger babies are difficult to keep warm.
Do I have to know how to snowshoe?
No, snowshoeing is not very different from walking; we begin on easy flat terrain so that you become comfortable on snowshoes before we progress.
How long are we snowshoeing for?
We will be on snowshoes for approximately 90 minutes; however some of this time will be spent taking on and off snowshoes.
What should I wear?
Be sure to dress appropriately for an changeable mountain weather; ski pants or tights, layers and a windproof, waterproof jacket are recommended, avoid cotton clothing, synthetic or thin wool clothes are best. Sturdy warm hiking boots are ideal especially with some thick wool socks. Top that off with gloves and a toque and a pair of sunglasses in case it gets sunny and your all set.
What should my baby wear?
Temperatures can change quickly on the mountain, so layers are important for babies because they help you monitor their temperature. With little physical activity you baby is unlikely to sweat so cotton clothing is okay, however synthetic and wool are best. One base layer and two mid layers plus a snowsuit/wind breaker is recommended. Be sure to bring a mitts, booties and toque that covers the ears.
Should I bring anything else?
An extra layer for you and your baby due to changeable weather conditions A large scarf or shawl is a great idea to protect your baby from heavy snow or sunshine Walking trails with a baby is thirsty work, be sure to bring some water.