Be blown away.
Experience the glass-enclosed viewPOD™, 58 metres above the
Peak of Vancouver. Only Here.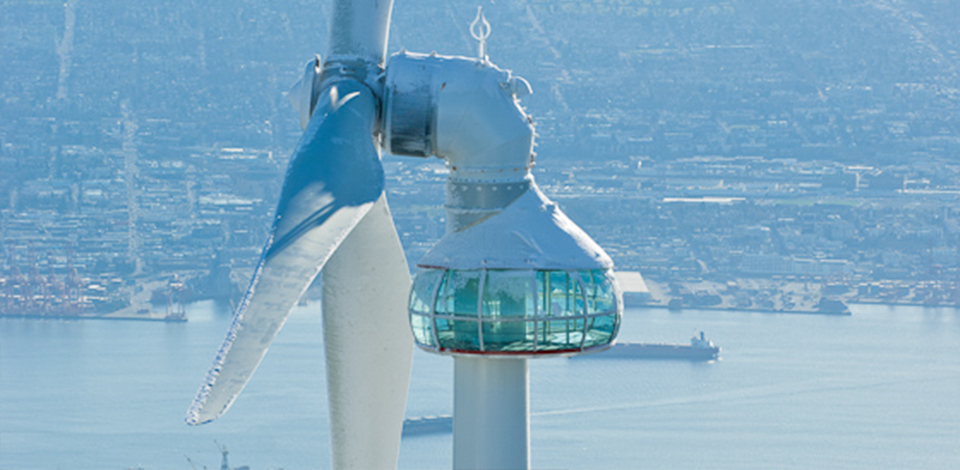 Prepare to be blown away
On The Eye of the Wind turbine tour, an experienced guide will lead you on a mountaintop excursion culminating in a breathtaking visit to the top of the turbine. Inside the world's only elevator-accessible wind turbine with a clear glass viewPOD, stand in awe of 360-degree views as you come within metres of the massive rotating blades and face the future of responsible energy.
Children 12 and under are admitted to The Eye of the Wind for free with a paying Adult/Senior. Note there is a 1 metre height requirement for the Chair Lift portion of the tour.
Tour Times:
Weekdays: 12:00pm, 2:00pm, 4:00pm
Weekends: 11:00am, 1:00pm, 3:00pm

Tour Rates
$19.95 - Adult/Senior/Youth (does not include mountain access)
Grouse Mountain Members save 20% on tours.

$61.90 - Adult Ultimate Tour (includes Ultimate Experience ticket and guided tour of the Eye of the Wind)
NOTE: Your tour guide will be waiting for you 10 minutes before the scheduled tour time, outside of the Peak Chalet.
Please call Guest Services to book your tour at this time at 604.980.9311
Peak Experience & drop-in visit to The Eye of the Wind, available during summer months.
$57.95- Adult
$53.95 - Senior
$38.95 - Youth
$14.95 - Child
$139.95 - Family (2 Adults, 2 Youth)
Adventure Bundle


Ultimate Experience & Mountain Ziplines, available in summer months
$119 (Regular)
Grouse Mountain reserves the right to change or cancel programs and schedules without notice. Products are non refundable and non transferable.