Grinder and Coola Prepare for Winter
Posted by Devin Manky October 28, 2020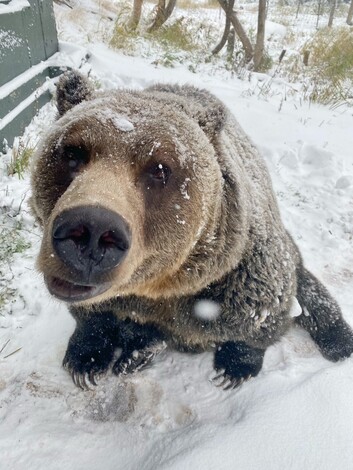 Into the hibernation habitat
Grinder and Coola have moved into their hibernation habitat - located at the rear of their main 5.5 acre summer habitat - in preparation for the incoming winter. Both bears have spent the last two months in a hyperphagia stage which means they have been extremely motivated to find as much food as they can and bulk up. Recently Coola weighed in at 1045 lbs and Grinder at 885lbs. This is close to their final winter weights.
We have begun providing the bears with lots of Pacific Silver-Fir branches in order to line their sleeping chamber. We've seen them working on it already - Coola tends to do a lot of the work while Grinder likes to supervise and has been known to pull a branch or two out if he doesn't like what he's seeing!
They will build a deep mattress of branches which will serve as their bed for the winter time. As the temperatures continue to fall, and the snow starts to build up, the bears will spend more and more time inside the den and in their sleeping chamber.
Once we see them spending most of their days inside the den we'll close the outer door and the boys will be officially in hibernation for the 2020/2021 season! Their 19th hibernation at Grouse Mt!
We will send out a notice when this happens but until then please feel free to visit Grinder and Coola at their hibernation habitat.
hibernation webcams
If you would like to follow along with Grinder and Coola's winter preparations, we have now activated our hibernation webcams.
Please visit
here
to see all three of our bear webcams.
One camera shows the backyard of their hibernation habitat and the other the front of their den. Watch for the bears to be doing activities such as gathering branches and pulling them inside.
The third camera is an infrared view directly into their sleeping chamber. Here you can see them making their mattress and testing it with some good long snoozes! The den camera also includes a timelapse feature - you can select this in the drop down menu on the upper right. There you can view the entire previous day in just a couple minutes and see what they have been up to.
Happy viewing!