Grind For Kids Interview: Ben Armstrong
Posted by Mikee HK October 22, 2011
"My son Ben achieved his Grind For Kids goal of 35 today. Ben himself is a childhood cancer survivor and B.C Children's Hospital miracle. His best time this season was 38:54 (not bad for a kid who had to relearn to walk at age 3). Well done Ben!"
Ben's mother, Colleen, posted this update on our Grouse Grind Facebook Page last week.
Every person who helps raise funds for the
BC Children's Hospital Foundation
plays an important role in the program. Whether you are Grinding every single day or simply donating to a friend or family member, it makes a difference. I think we can all agree that there is something extra special in a story like
Grind For Kids
participant and childhood cancer survivor Ben Armstrong's.
Shortly after, we reposted the comment to see an amazing response from the Grouse Grind Community! Following that, Grind for Kids Ambassador, Philipp Postrehovsky, was able to get in touch with Ben and put together a "Rapid Fire" style interview with Ben.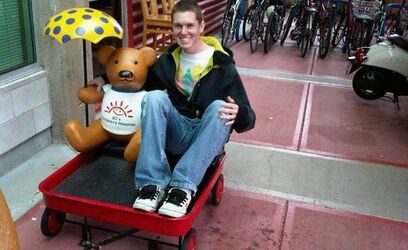 Grind for Kids: Why did you sign-up for Grind For Kids?
Ben Armstrong: I wanted an opportunity to give back to the BC Children's Hospital Foundation, which had helped me so early in life.
GFK: Why do you do the Grouse Grind?
BA: I love the challenge of always improving and it's a great workout.
GFK: What motivates you to get to the top?
BA: Knowing that each time I do it money is being raised for the BC Children's Hospital Foundation, and I enjoy always trying to improve my time!
GFK: How many Grouse Grinds did you set for yourself to complete?
BA: I reached my goal of 35, but I will keep Grinding until it closes.
GFK: Why are you raising money for Grind For Kids?
BA: Because the money is going to a cause that I consider second to none. No child deserves to go through something so serious without the help of others.
GFK: Other than soliciting pledges from family and friends are you planning on doing any other fundraising activity?
BA: Currently I'm not involved in other fundraising but that is something that I want to change and would welcome any opportunity to help out.
GFK: What would you tell somebody who does Grouse Grind and hasn't signed up yet for Grind For Kids?
BA: I would say that there is no reason to not be involved! It's so simple and all of the money goes to help kids and supports an amazing foundation and hospital.
Grind for Kids closes for the season on October 31st, so there is still time to make every Grind count! Even if you haven't signed up yet, there is still time to help raise a mountain of money for the BC Children's Hospital Foundation!
Sign-up today
and every Grind you've done with your Grind Timer this season will count.
Thanks to all of the Grind for Kids program participants, and to Ben Armstrong and his family!