One Month Left: That Extra Step
Seek the Peak is less than a month away, here is how to get that extra bit of training fit into your schedule...
Posted by Brad Cashman May 24, 2012
Here we are with less then one month to go before we take on the exciting challenge of Seek the Peak. By now we should all be seeing small improvements in both our physical strengths, endurance as well as our heightened sense of self-confidence.
By now we have all ran our long runs, attempted some variation of antagonizing hill runs and perhaps even tackled the Grouse Grind once or twice since its 2012 opening day last Saturday. All this combine with the long weekend where a few too many BBQ veggie dogs and socials went down the hatch, it certainly came down to finding the balance between enjoying the good weather and not jeopardizing our days of training.
Balance is the key to all matters when it comes sticking to fitness goals without giving up your everyday social life. Realizing what's important to you is a good beginning to this two-pan balance question.
Reminding yourself constantly of your goals will help you react and attempt to make healthier decisions. As cliché as it may sound, I try and use training as an escape from my everyday hustle and grind. When I'm drinking too many beers or packing away too many sweets over a weekend, I'll force myself to work that much harder the following week. It's important to always be thinking about the next goal, even if it's as short term as looking forward to the feeling after 30-minute workout or a quick 5 km run. When you're really not feeling into it after a long day at work think back to how you felt after your last fitness endeavor and try and pull motivation from that.
It's these small victories that will progress you towards you personal finish line.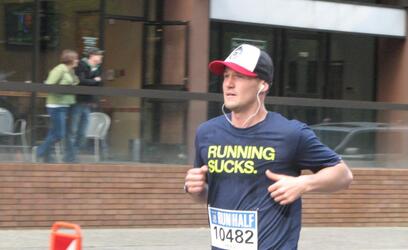 A friend reminded me this morning that working out and training is not only about the routine, but also about pushing yourself that extra bit to be able to see results quicker. It's not the first 1 through 10 reps that are going to push you to the next level, it's the 11th and 12th. Those extra steps when you're body is exhausted, that you will truly get those results.
Try this:
The next time you head up the Grouse Grind, don't celebrate when you slap that stone. Push yourself and spring for the bottom of the stairs! Pull all your energy and put it into the final moments of your workout and you will not be disappointed with the results.
These are such small things you can implement into your training and into your everyday lifestyle. It's far too easy to use time as an excuse, when in reality taking 40, 30 even 20 minutes a day can make a world of difference in your personal health.