Mountaintop
Safety Training
Programs for beginners and experienced mountaineers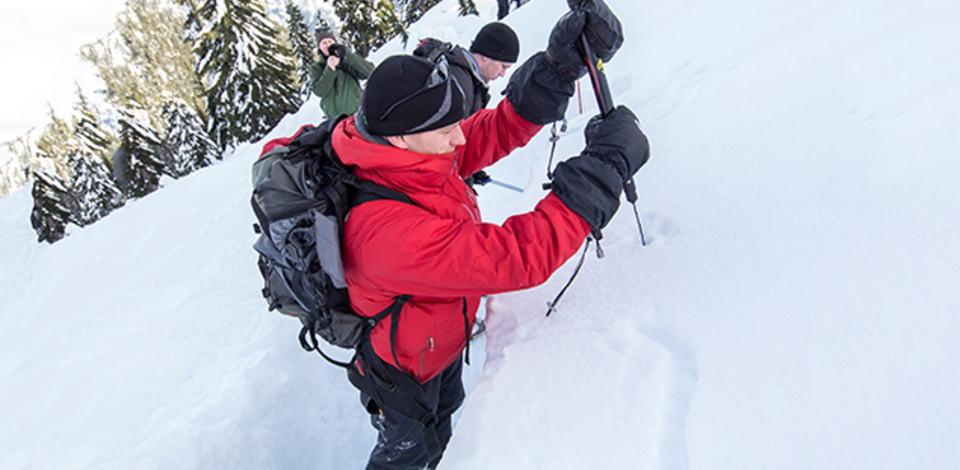 Avalanche Skills Training: Level 1
This two-day course offers both theory and practical training in Avalanche Awareness.
2024 Course Dates:
January 20th & 21st
January 27th & 28th
February 3rd & 4th
February 10th & 11th
February 17th & 18th
February 24th & 25th
March 2nd & 3rd
March 9th & 10th
March 16th & 17th
8:30am - 4:30pm
Includes both indoor and outdoor sessions.
Price
$289 (includes admission to Grouse Mountain)
Participant Info
Participants need to be on the 8:15am Skyride to meet the instructor at 8:30am by the fireplace inside the Chalet.

What to Bring
Alpine touring / telemark / split board / snowshoeing equipment (skiers and snowboarders need reliable climbing skins)

A backpack (30 litre capacity minimum)
Warm clothes appropriate for mountain travel
Extra pair of gloves
Sunglasses and sunscreen
Small personal first aid kit (band-aids, blister care, personal medication, etc.)
Food and water (lunch time on Day 2 is spent outside in the field)
Optional: Thermos of hot drink and down jacket (long portions of the field sessions are fairly low intensity)
All avalanche rescue equipment is included but you are encouraged to bring your own if you have any. This will ensure that you get instructions and practice with the equipment you will use on future trips.
Grouse Mountain reserves the right to change or cancel programs and schedules without notice. Products are non refundable and non transferable.