20th Anniversary of grinder and coola's arrival at grouse mountain
Posted by Devin Manky September 7, 2021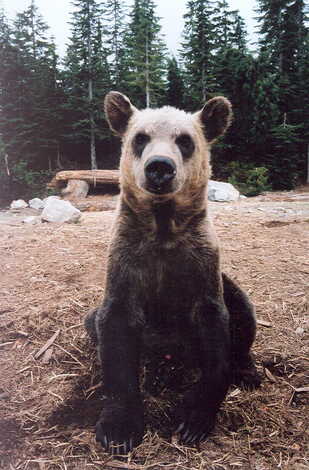 arrived on september 5th 2001
This past weekend, September 5th to be exact, marked the 20th anniversary of Grinder and Coola's (our two resident Grizzly Bears) arrival at Grouse Mountain and the creation of the Grouse Mountain Refuge for Endangered Wildlife.
Both bears were found in the wilds of British Columbia in June of 2001 as six month old cubs.

Grinder was found alone on a logging road near the Rocky Mountain town of Invermere by some forestry workers and had been without his mother for some time. He was close to starving to death but when brought in to the local vets office he quickly regained his health.

A couple weeks later Coola was found near the coastal town of Bella Coola where he was located beside his mother who had unfortunately been killed by a vehicle on the road.

The owners of Grouse Mountain heard about the plight of both Grinder and Coola and agreed to dedicate over five acres of natural mountainside as a home for these two cubs in need. Thus our refuge was born!

Grinder and Coola were introduced together and had to reside on a local farm for a couple of months while our refuge and habitats were created.

Once ready the bears were transported to the mountain on September 5th 2001, brought up on the Blue Tram and the rest is history!
Today
Twenty years later Grinder and Coola are still healthy and happy and living at our refuge. We have learned a lot by raising them here and are hopeful that our experiences and observations can help future orphaned Grizzly Bears be rehabilitated and returned to the wild.
Our webcams continue to monitor them 365 days a year and we are constantly learning from them by observing their behaviors.
Be sure to stop by and say hi to the boys and spend some time watching them yourself. Their behaviors are a fascinating look into the daily/weekly/monthly/yearly life of Grizzly Bears.
Here's to twenty more years boys!