Bears Enter Summer habitat for 2020 Season
Posted by Devin Manky May 9, 2020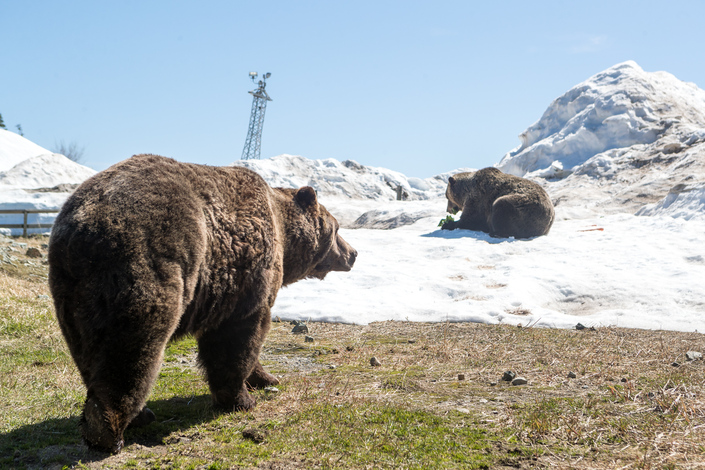 let the exploration begin!
On May 8th our two Grizzly Bears, Grinder and Coola, entered their large summer habitat earlier than previous seasons. The bears, awake and out of hibernation since April 21st, welcomed the opportunity to explore their familiar habitat and to play in the large mounds of snow that are still present.
The new habitat includes multiple ponds, a stream system, forested areas, hills and open fields - a lot of areas to explore!
As expected, Grinder entered first but was very quickly followed by Coola. Grinder is the more explorative of the bears whereas Coola watches Grinder and then, if it all looks good, follows on his heels.
The bears spent the next couple of hours checking out the habitat and see what was still covered by snow and what areas were accessible. They nibbled on the grass that was emerging in sections and chowed down on the food that was spread out before they entered. Of course some excited play wrestling was also called for!
After all that excitement and activity Grinder and Coola were pretty tuckered out and spent the rest of the day bedded down in their newly created beds in the forest. We are also happy to announce two new webcams that showcase this habitat and allow you to follow along from home. You can view them on our webcam page at:
https://www.grousemountain.com/web-cams
.
Even though Grinder and Coola are once again out and about exploring their mountaintop habitat please remember that due to COVID-19 Grouse Mountain is temporarily closed and public access to Resort property is prohibited. You can still connect virtually with Grinder and Coola through our live webcams on the Grouse Mountain website as well as stay tuned for updates on the blog and our social media. In the meantime, Grinder and Coola will be patiently waiting until we can safely welcome you back to the Mountain.