Bring on winter!

The snow has arrived at Grouse Mountain

Posted by Jacqueline Blackwell November 12, 2014
Wow, where did autumn go?! All of a sudden, winter is just a few short weeks away and those dreams of perfect, powdered bluebird days at Grouse Mountain are about to become a reality. <cue happy sigh>
Seasonal maintenance: nearly complete!
Up here at the Peak of Vancouver, our mountain operations, maintenance and facilities folks have been working around-the-clock to ensure our snow season meets your expectations this year. The snow began flyin' last weekend so time is of the essence!
Way back in
September
, we told you about the seasonal maintenance that our team had undertaken so we figured it was time to provide a little update. Overall, we've got great news on that front as the hard work we've done on our Purgatory, Outer Limits, Devil's Advocate, Blazes, Upper Inferno and Peak runs is nearly complete which means this terrain will be in tip-top shape as soon as the snow falls. Proactive maintenance = a longer season (and big smiles from downhill enthusiasts everywhere).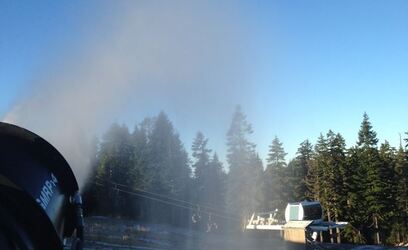 Blazes: new night terrain and a brand-new race centre

In case you haven't heard, we're expanding our night terrain to include black-diamond Blazes and we're happy to report that the work is nearly done! The re-contouring of the run has been completed and the eight light standards (powering energy-efficient LED lights) will be finished next week. This great news means we're giving our night owls some brand-new terrain to play on when the sun goes down – and who can say no to that?!

We are also incredibly excited to partner with our friends at the Grouse Mountain Tyee Ski Club in the construction of a brand-new race centre at the bottom of Blazes. With a brand-new building featuring state-of-the-art timing equipment, Tyee's young downhill enthusiasts will be able to hone their skills in a world-class facility that is sure to bring high-profile events to Grouse Mountain. Stay tuned – we plan to unveil this special and very exciting project as soon as the mountain opens for skiing and riding!

For all you formers racers looking for some friendly competition, we'll be developing a new night race league program – all the details will be unveiled in the near future.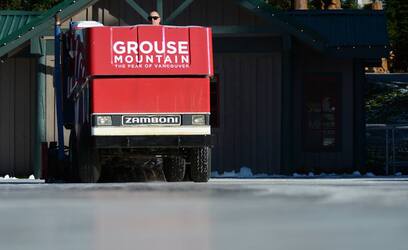 Ice skating pond: now open!
Nothing says 'Canadian winter' like strapping on the blades for a brisk outdoor skate! Our mountain operations crew worked hard to get our 8,000-square foot pond – the only mountaintop skate pond in Vancouver – open this week, so stop by between 9:00 am and 10:00 pm daily for your winter fix. Hold hands on a romantic date, bring the kids up for some authentic winter fun or go solo and practice your triple axels (kidding).
And as for that weather forecast, we're looking at clear and cold conditions this week – perfect for the North Shore's largest snowmaking fleet to fire away (and if you don't believe us, have a peek at The Cut the next time you're gazing towards the North Shore, dreaming of downhill…).
Keep checking our official Grouse Mountain
iPhone app
for up-to-the-minute snow reports and a look at our live webcam.
BRING ON WINTER!