Run it, Walk it, Win it
There are so many things to look forward to at the ClearlyContacts.ca Grouse Grind Mountain Run that we had to write a post just to sum it all up.
Posted by Grouse Mountain September 13, 2012
As of this post, we are nine days out from the event day! I say event instead of race, because while many are signing up to give it their all, lots of others are coming to hike in support for BC Children's Hospital Foundation. With all of the extra goodness we're packing into the day, you'll see how this race is now turning into a full on event day!
1. FREE Sunglasses from ClearlyContacts.ca

That's right. Every person that registers to hike in the event gets a free pair of these black Derek Cardigan sunglasses from ClearlyContacts.ca worth $70. That's worth the price of admission right there!
2. Team Prizing
Why hike it alone when you can team up with friends? Sign up as a team with your friends and have a shot at being crowned...
Fastest Team (average of top five fastest members)
Fastest Team Member (both male/female)
Slowest Overall Team (Hey, you still beat everyone at home on the couch!)
Most Colourful Team. This one is our favourite. Use that creativity and dress up any way you want! Be wild, energetic, or hilarious.
3. Vintage Coke Fridge
Check this thing out! Some lucky participant is going home with a brand new, vintage styled Coca-Cola fridge.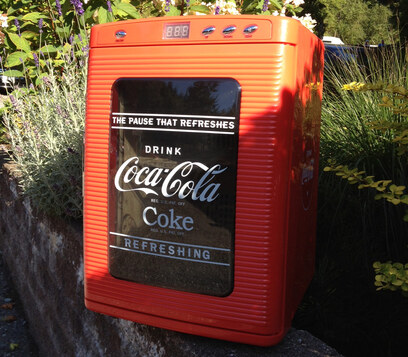 4. Live Music
Local group,
Good for Grapes
is going to be playing a set in The Plaza just in time for you to cool down from the hike and enjoy a cold beer with teammates and friends.
5. It's for Everyone!
Like we said above... it may be called the "Mountain Run" but it can be whatever you make of it. A race to compete for first, a hustle to get your own personal best or just a hike with friends to raise money for miracles for the sick kids over at BC Children's Hospital. Finish the race in 30 minutes or two hours, no matter what you've beaten everyone sitting around at home!
6. So many more great things...
We could just keep going on, so we will...
Yoga
Massages
Vega goodies in the racer bags
Salt Spring Coffee will be on hand keeping you caffeinated
Whistler Water will be there to refresh you

Spin the wheel for prizes
Neon Zinc face painting
An African percussionist from the Drum Cafe
After all of this, it's important not to forget about the personal feeling of achievement from participating in and completing a hike up "Nature's Stairmaster."
So what do you say? Have enough reasons to register and make a day of it? Rally your friends, start a team and REGISTER HERE to have an amazing Saturday on September 22nd.