An innovative way to improve company communication
Grouse Mountain style!
Posted by Lauren Travan April 6, 2012
For all of you who think working on a mountain means a lot of 'play' and less 'work' you have yourself mistaken. Most of the time my job description confines me to my computer and desk just like many of you. In saying that, work can also be fun if the right situation occurs and on Friday, the Catering team met up with our Corporate Adventure Training team and Mountain Patrollers to combine our skills and expertise whilst partaking in an Avalanche Emergency Scenario. The program targeted our group communication and tested a few new skills we picked up from the patrol team in the morning.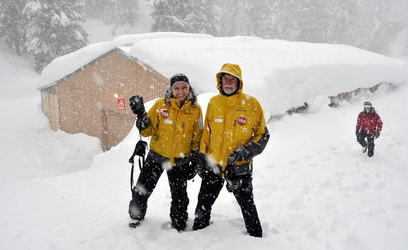 My group focused on using avalanche beacons, another group worked with the probes and practiced their shoveling snow skills, and the third group learned about basic first aid specific to this scenario.
While I have spent a lot of time in the back country, I have to admit I had no idea how to even turn on a rescue beacon. After a few practice 'rescues' I was feeling like a pro and ready to join the other groups and rescue our victim 'Hosay' who is appropriately made out of hose and rope.
I'm happy to report we managed to work together and successfully rescued Hosay in record time. We found him using my group's amazing beacon skills and another groups' probing and shoveling skills, and managed to give him an air hole within of 4 minutes of the avalanche. It took us only 22 minutes to then put him on a stretcher made by our first aid team and carry him out to where Patrol had transportation waiting to take him to safety.
So if there are any groups out there would like to try and beat our rescue time, I'd like to put that challenge out there. Keep in mind, those who participated in this activity had no experience with Avalanche Rescue. We may work on a mountain but, as I said, it's hardly in outdoorsy kinds of jobs. What a fun Friday and great way to end the week!