Mortimer the Owl Meets Vanessa the Girl
Getting Social: Vanessa came up to meet the young owl she named through Social Media.
Posted by Grouse Mountain August 29, 2012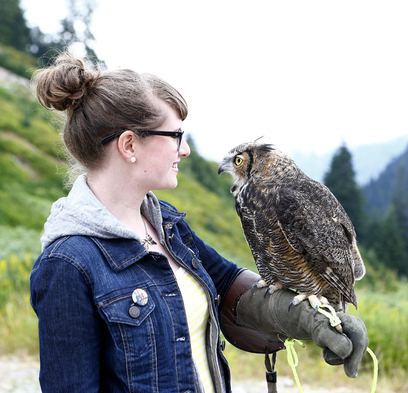 We participate online in conversations with our guests, residents of Vancouver and tourists from all over the world every day. We get to hear your stories about the visits and adventures you have with us and in turn we get to share our news with you.
Through that relationship, this summer we had the pleasure of introducing you to a six week old Great Horned owl who had just joined the team. However, something was missing... his name.
This became one of those special opportunities where we are able to bring the entire Grouse Mountain community into the conversation through social media.
The idea was simple...
Ask you, the community, to submit your name ideas for him. Through this, the winner would not only get to come up with a guest for a private meet and greet with the young owl, but know that there is a special member in our Birds in Motion family that they had named.

After having hundreds upon hundreds of names come in through Facebook, selecting the right one was a tough task for the team. Some names were funny, some were literary, many were excellent. In the end, there was one choice that really seemed to suit him perfectly, and that was Mortimer!
Vanessa A. was the winner and recently came up to meet Mortimer, or "Morty" for short, and this is what she had to say about the visit, "Amazing! It was an incredible opportunity, and it was so special to spend time with all the birds."
Once again, we'd like to thank everyone for participating and the great community we have for getting so involved in an opportunity like this.