Grouse Mountain Wildlife update
Posted by Devin Manky May 8, 2020
Most of you probably know about Grinder and Coola, the two grizzly bears that inhabit the refuge, but did you know that the Grouse Mountain Refuge for Endangered Wildlife is also home to four Owl Ambassadors who represent their species for educational presentations? All of these Owl Ambassadors here on Grouse Mountain are doing well and they think this recent warm weather has been a hoot! To update you here is a little bit about each one: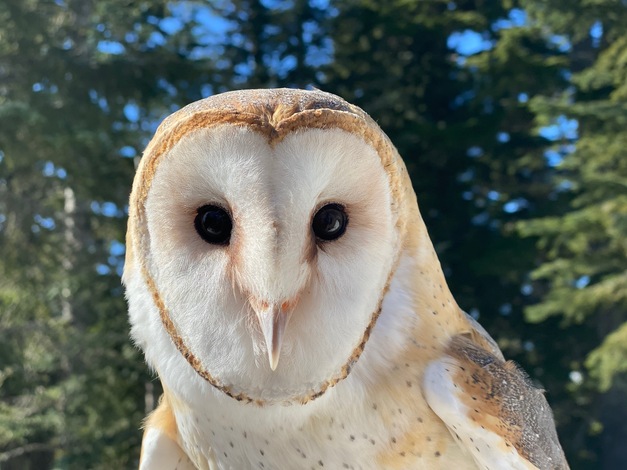 Cleo - barn owl
Cleo is the founding member of our Wildlife Ambassador crew and has been residing here at Grouse Mountain for the past seven years. She was born on Vancouver Island and was a member of our Birds in Motion Demonstration team before transitioning to educational work. Barn Owls, Tyto alba, are in a family all of their own when it comes to owls. They are found on every continent except Antarctica (where it's too cold). Cleo enjoys a warm indoor aviary to fly around in during the cold winter months and then moves to an open aired aviary outside for the summer.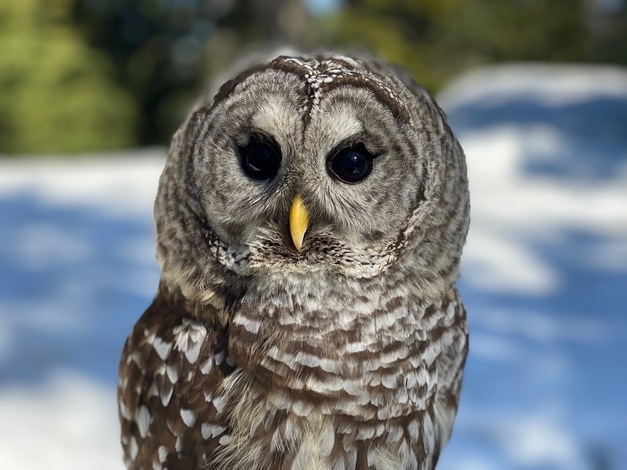 Odin - Barred owl
Odin arrived here at Grouse Mountain on April 25th of last year as a little two week old chick! We hand raised him to be a confident ambassador and he's quickly become a guest (and staff) favourite. He has a wonderfully quirky personality and a great sense of curiosity. He is often hanging out in the office with us and picks up everything to inspect what it is before we have to confiscate it. Odin came from the Northern Spotted Owl Breeding program in Langley where Barred Owls are helping researchers learn to better care for and raise the highly endangered Northern Spotted Owls. Odin's recently had his 1st birthday on April 10th of this year!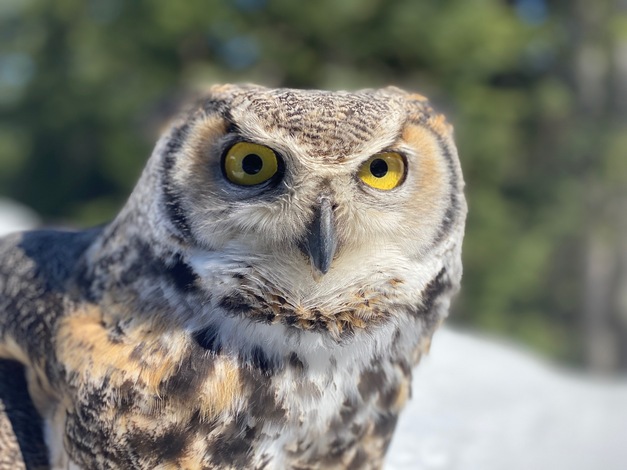 Athena - Great Horned Owl
Athena is also one of the newest members of our Wildlife Ambassador crew. She arrived here last May as a two month old youngster having been born at the end of March 2019. She was hatched at an educational facility in Ontario and hand raised so that she would be a calm and friendly ambassador. As our largest and heaviest owl she is an impressive visitor for educational groups or public talks. She has a double wide aviary and can be found spending the winter months flying around and practicing her new adult call that sounds like 'Who's awake, me toooooo!'.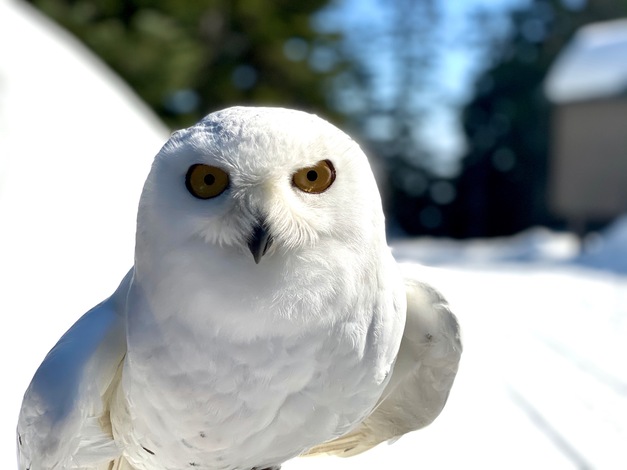 Blizzard - snowy owl
Blizzard arrived here at the Grouse Mountain Refuge in 2014 after being hatched in Edmonton. He is a beautiful male Snowy Owl with huge yellow eyes. Like most raptors, the males are smaller than the females and with Snowy Owls the males tend to be light in color with less dark bars or spots. Winter is Blizzard's favourite time of the year and we often have him out enjoying the cool temperatures and snow on the ground. In the wild he would eat lemmings, ptarmigan, arctic hare and other small mammals and birds. Here he loves to chow down on mice, chicken and quails.