Frozen watermelon treats to beat the heat
Posted by Devin Manky August 17, 2022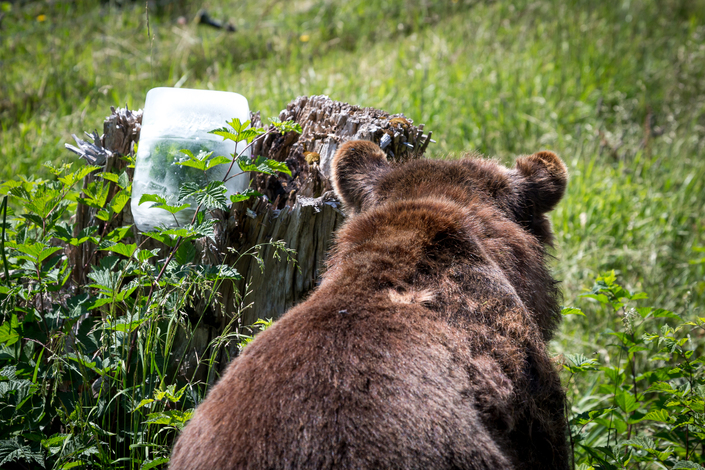 Bears stay cool
We often get asked how Grinder and Coola stay cool and beat the heat during our hot summer days and there are a couple of ways they do so!
One is by doing lots of swimming in our ponds! The other is by chowing down on some tasty icy treats provided by our wildlife caretakers.
Just the other day they had a fun frozen watermelon encounter - not the sort of prey they might find in the wild but one they really enjoy nevertheless!
Making quick work of it...
It takes our caretakers two days of layering and waiting to properly freeze a watermelon in a block of ice but it took the bears about 15 minutes each to get them apart and into the good stuff inside.
Through a combination of claws, teeth and tongue the bears notched some scratches and indents in the ice and then used that as a spot to get grip with teeth or claw. Once they get a grip the incredible power of both a grizzly bears claws and teeth becomes evident. The ice breaks apart fairly easily and inside the tasty watermelon is revealed! Then let the gorging begin.
Check out below for a few more photos of Coola working on his ice block!