Mason Bee Homes in Pollinator's Garden
Posted by Devin Manky July 19, 2018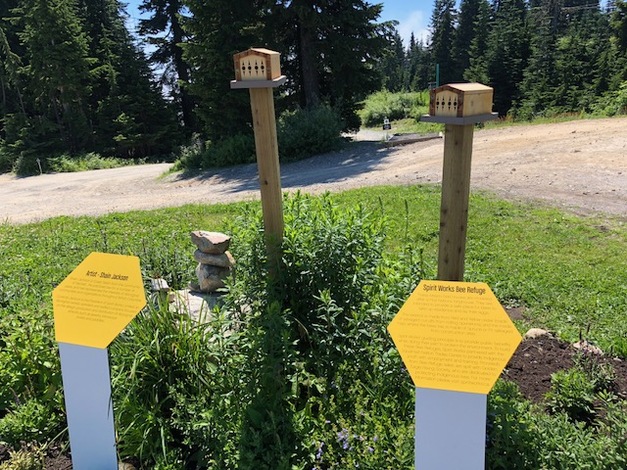 Recently we had two beautiful native bee boxes donated by Spirit Works Limited, designers of unique First Nations products from the West Coast.
These boxes are made from Red and Yellow Cedar (made of salvaged cut-offs from milling operations), and the inside trays, where the Bees live, are made of Spruce or Fir salvaged from construction sites around BC.
Shain Jackson is the artist who designed the boxes and he is Coast Salish from the community of Sechelt. He is also the president of Spirit Works Limited.
Mason Bees, some of our native pollinators, are a solitary bee that will use the boxes as nesting trays to lay their eggs which will develop into next years adult bees. They carefully stuff mud and clay into the holes and then lay one egg which is then sealed off by another wall. They will lay many eggs in one tunnel until they are full. Overall each adult female mason bee will lay about 20 eggs. The adult bee will then die as a new generation is ensured. This activity (and their life) takes place over approximately 6 weeks. Mason Bees are important native pollinators as they eat the nectar and pollen from flowers, but do not collect and store it like honey bees. As they fly from flower to flower they spread pollen and help the flowers procreate. They are able to handle early season temperatures and are an important early pollinator. If you would like to order one of these beautiful Native Bee Boxes please visit Spirit Works at :
https://www.spiritworks.ca/about.php