Meet Your Goals... Then Celebrate
Friends and family can often be the best motivators for getting out there and staying active...
Posted by Brad Cashman May 14, 2012
When I woke up last Monday morning, the typical tokens of a post 21km run were right there to greet me with open arms.
From sore knees to tight muscles and not to mention the sideways headache from all the celebratory barley pops consumed after the race. With all that, I still found myself grinning from ear to ear. Coming in six minutes and fifteen seconds faster than my 2011 time and achieving my own personal best time of 1:32 was and is an amazing high, especially for a kid who two years ago was setting out to beat cheeseburger eating records.
If it wasn't memorable enough to see that clock time as I crossed the finish line, I realized another sensation while standing in that finish coral cheering and congratulating all our friends coming across that ever so daunting line. Our entire group ran best times. Some by mere seconds and some close to shaving off 20 minutes. Either way, everyone had met their goals and those beers in the photo above never tasted so good.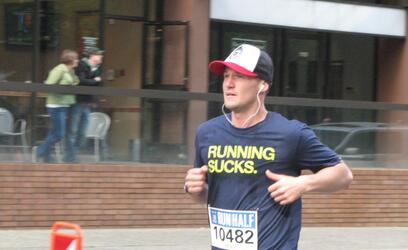 Through the mist of my post run hangover, I got to thinking and came up with the conclusion of a different goal for Seek the Peak. My mission is to get as many of my friends and family involved in this event. To share that feeling at the end of the race with as many people as I know and hopefully encourage a few people to attain some of their own personal fitness goals along the path.
Let's not forget, beach season is nearly upon us and what better way to get us into summer shape than to not only train for, but actually race up the side of a mountain? Not to mention the amazing cause and the primary reason we are all gathering and running for.
Here are a few friendly tips on how to set goals and simple ways to stick with them:
Write your goals down
Make them visible! Whether taped to your mirror or stuck to the fridge, scribble out where you want to be and how you plan on getting there.
Find a dependable partner or group
Because sharing success feels so much better with friends. This is something I find that works amazing for me: If you're feeling sluggish and lazy, count on your partner to pick you up and return the favor when you see them slumping. Amazingly enough Grouse Mountain is offering up some
group training sessions every Tuesday night
up until race week. Come say hello next week as I will be attending my first one.
Track your progress
Measure body fat percentages, weigh and measure yourself. Keep a journal, if you're increasing pushups or sit-ups or your squats, it's as simple as writing them down. It'll remind you that things are working. So this is me challenging you! To everyone I know and to those I have yet to meet, lace up your shoes get outside and start training. Pencil Seek the Peak into your spring goals and come slap some high fives and celebrate being healthy with a few pints on the peak of Vancouver.
Register for Seek the Peak here
.