#PlayMakers of Grouse Mountain
Grooming Team
Posted by Julia Grant March 3, 2016
The #PlayMakers of Grouse Mountain series continues… it's time to take a look at what happens on the Mountain after dark. When most people have finished an awesome day on the slopes and are heading to bed, certain members of our team are just getting started.
Meet some of our exceptional grooming team – Alex, Shaw, Jake and Calum. This nocturnal group run our fleet of snow cats and spend nights out on the Mountain working their magic so the rest of us can wake up to beautiful fresh corduroy. A few members of the team even follow the snow to New Zealand and work as groomers in the off-season – so you could say they're an experienced bunch. "I love to look up at the end of my shift, see that fresh cord and know that our skiers and riders are going to have a great day on the Mountain."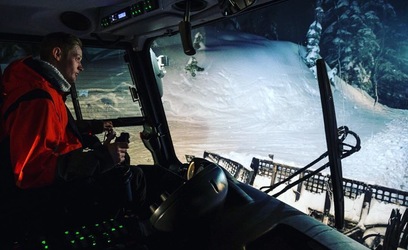 "There really isn't a typical night in our line of work given the conditions and weather are always changing. We normally start off the night checking in with the Duty Managers and snowmakers – finding out what what's been done on the Mountain during the day and what we need to work on overnight. Once the lifts are closed we head out in the cats and then it's full on all night. Unlike other ski resorts that are just open during the day – because we close at 10pm each night, our timeframe for grooming is pretty condensed. We'll have 4 – 5 guys on a night running all the cats in order to make sure we cover the terrain we need to." "
One of the great things about this job is, if we've had a dump of new snow overnight I'm here, ready to ride in the morning after my shift. Nothing beats heading out with Patrol for some fresh tracks on a sweet powder day."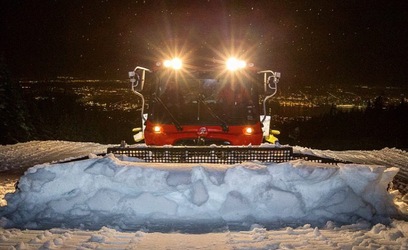 In addition to being one of our capable Grooming Supervisors, Shaw is also our Terrain Park expert. Not only can he lay down superior cord, this guy knows how to build some stellar park features.
"I'm in my 9th season at Grouse Mountain – it's crazy it's been that long but I still love it. One of my favourite experiences has definitely been designing and building the courses for end of season park shoots. It's always awesome to see so many great riders out enjoying the course I worked so hard on. | Shaw – GMR Grooming Supervisor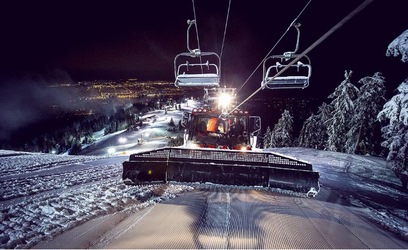 "Winching adds an extra technical element to the grooming we do. It's a real feeling of power to be able to push a ton of snow up a steep run like lower Blazes or Peak face. It never gets boring and I'm constantly learning new tricks and techniques to improve."
"It's pretty cool to be part of such a dedicated grooming team. We all take pride in what we do and are happy to put in the extra effort to make sure we're putting out a great product. Not only do we work here but we ride here as well so we're invested in making sure it's a fantastic experience." | Calum – GMR Groomer