#PlayMakers of Grouse Mountain
Steve - GMR Millwright
Posted by Julia Grant March 31, 2016
Finishing up our series on the #Playmakers of Grouse Mountain we'll take a look into the world of millwrights. More specifically, we'll find out what it's like to keep Grouse Mountain's iconic Super Skyride running smoothly.
Meet Steve, part of the Lift Operations team and one of our millwrights responsible for maintaining both the Red and Blue trams. A veteran at Grouse Mountain with 15 seasons under his belt, Steve can regularly be found out on the tram lines making sure everything is top shape. "Some people may be scared working at these heights but it's one of the things I love about the job."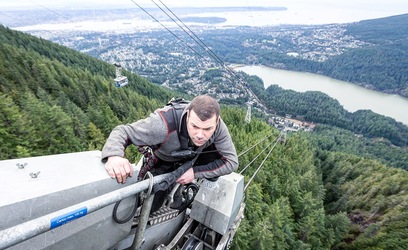 "Our day typically starts at 6am with a general inspection of the machine room. Then we get harnessed up and head up on the carriage roof for an inspection of the tram lines to make sure everything's running smoothly. Safety is always our priority; maintaining all the components and keeping them in perfect condition. You know your family and friends are taking the Skyride everyday – that responsibility is something we take incredibly seriously.
Outside of our normal routine there's always things that come up to keep the job interesting. We perform regularly planned maintenance on the tram twice a year and the manufacturer will often send over a team from Switzerland to work with us. It's a great experience to be able to work along side those guys – they're the ultimate experts in the field."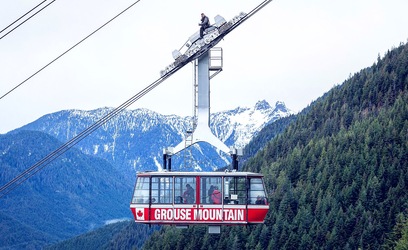 "I really take pride in what I do. The Skyride is such an iconic part of Vancouver, most people have ridden it at some point or at least know about it – I'm lucky I get to be a part of this historical piece of the City.
I know what I'm doing is important – making sure that all our guests are able to safely enjoy their trip on the Skyride. Plus, knowing that my son brags about my job to his friends at school is a pretty good bonus." | Steve – GMR Millwright