#PlayMakers of Grouse Mountain
Mountain Operations
Posted by Julia Grant February 26, 2016
Next in our #PlayMakers of #GrouseMountain series we're going to introduce you to some members of our Mountain Operations. This dedicated team is out there working hard behind-the-scenes because they love making Grouse Mountain a great place for you to play! Everything from shoveling snow to hauling supplies, maintaining the Skating Pond and Sliding Zone to our awesome dispatchers – these are the people that make our Mountain tick.
First up, meet Brittany. Still in her first season at Grouse Mountain she's fit right into the team as one of our transport drivers. These transport vehicles are pretty unique to Grouse Mountain – normally used in hydro operations, we're one of the very few ski resorts using this type of covered track vehicle. As a transport driver, Brittany's been specially trained on vehicle operation and maintenance by our mechanics. On a regular day you'll find Brittany helping out with morning setup, hauling supplies or moving people around the mountaintop in her little orange tank. "It's a great job because I get to interact with so many different people – the team has become my mountain family. Plus, I have to admit, its fun driving around in the snow!"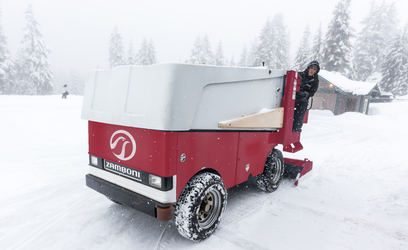 The Attractions Crew is an important division of our Mountain Operations team and is dedicated to keeping areas like the Skating Pond, Sliding Zone and Light Walk in top shape, ready for you to enjoy. Among the many jobs the Attractions Crew performs, driving the Zamboni may be one of the most unique. Did you know, the Grouse Mountain Zamboni is the only one used on a mountaintop? In fact, Mr. Zamboni himself once visited Grouse Mountain from California to check out and drive our Zamboni!
Meet Barry, a member of the Attractions Crew and one of our skillful Zamboni drivers. Joining us all the way from Dublin Ireland, you can find Barry out on the Skating Pond, clearing snow and resurfacing the ice for everyone from our littlest skaters to hockey aficianados renting the pond for a late night game of shinny. "When you work at a ski resort, you wouldn't normally think that would include driving a Zamboni – but that's what keeps it interesting working here."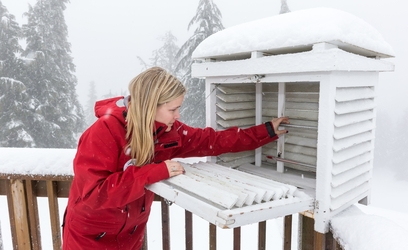 At the heart of Mountain Operations are our amazing dispatchers. These are the people keeping track of all the various activities happening on the Mountain… and keeping us on task. From checking in with the groomers, snowmakers, patrollers and millwrights as they get the Mountain going each morning to measuring temperatures at the weather station, updating the current conditions on the website, recording the snowphone message and keeping up with internal reporting; this is one busy job!
Meet Victoria, one of our awesome dispatchers who has been with Grouse Mountain since 2006. Victoria is also one of the lucky people who lives in a cabin on the Mountain. "My commute is a little different than most – I get picked up at the bottom of The Cut by the groomers at 5:30am and they take me up to Peak Office. Part of what I love about my job is getting the Mountain going each morning, checking in with all the different teams – and you can't beat my corner office view! It's been said before but, the team we've got here is a great group of people and so dedicated to what they do – that's really what makes our Mountain a fantastic place to work and play."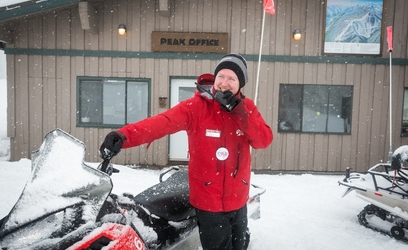 A look at our Mountain Operations wouldn't be complete without a glimpse into the life of a Duty Manager. These are the people managing the day to day activities on our Mountain – essentially making things happen. It's a job that involves a little bit of everything including working with all the different teams on the Mountain, assigning daily tasks, training staff, providing first aid support to patrol, facilitating special events and basically keeping everyone organized and operations running efficiently.
Meet Trevor, who's worked at Grouse Mountain for the last 8 years and is one of our fearless Duty Managers. "One of the things I enjoy most about this job is how much I continue to learn each day. Before starting out as a liftie, I knew pretty much nothing about mountain operations. My knowledge has grown so much since then plus I've made some fantastic memories along the way – one of my favourites was watching the Eye of the Wind being constructed; it was pretty amazing. In this role, every day is something new. Because of our changing mountain conditions, the way you do something one day may be completely unsuitable the next – it keeps things interesting for sure."