There are all types of heroes
Posted by Mara Keaveney July 11, 2014
What defines a hero depends on our perspective. A comic lover may think Superman, distinctive in appearance and iconic in stature, exemplifies a superhero for using his powers to benefit humanity. Other names that immediately come to mind include Martin Luther King Jr., a proponent of non-violent civil disobedience as a means to achieve greater civil rights for people of African descent and the poor; Malala Yousafzai, promoting education for girls worldwide; and Craig and Marc Kielburger, the founders of Free the Children, an organization that fights to free children from exploitation and advocates that children are not powerless to create change.
On the longest day of this year, working as an intern for the Sales and Marketing team at Grouse Mountain, my prior idea of what defines a hero shifted. Idolization by the media or recognition by others is not necessary to qualify; you are a hero simply by making a positive impact on others.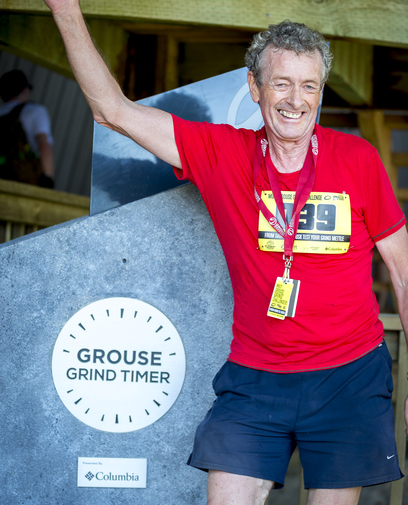 June 21st, 2014 was a day to test even the most resilient mettle. This was the day of the first official Multi-Grouse Grind Challenge. From dawn to dusk, avid 'grinders' took to the trail with two main goals: first, to fundraise and create awareness for BC Children's Hospital Foundation and second, to set the bar high as the first official Multi-Grouse Grind Challenge record holder.

The course opened at 4 am, closing just after 10 pm. With help from Finger Food Studio's the free Grouse Grind iPhone app was launched allowing to track and record your stats, progress and compare times with friends. Participants and spectators joined the party filled with music, yoga, sponsor demonstrations and some serious cheering on.

For those of you who have yet to experience the heart racing, hair lifting effects of what is frequently referred to as "
Mother Nature's Stairmaster
", this 2.9 kilometre (1.8 mile) trail up the face of Grouse Mountain gaining an elevation of 853 metres is no easy task.
Idar Karlsen, 69 years young, displaying incredible strength and endurance became the first Multi-Grouse Grind Challenge champion. His 15 ascents in a single day was a testament not only to his physical fitness but his compassion for others and strength of character. Mr. Karlsen saw an opportunity to make the world a better place by supporting the BC Children's Hospital and inspired others to push their limits. And did so with great humour and a genuine spirit of generosity towards others; his efforts that day make Idar Karlsen a hero to me.
Other heroic participants and high achievers on this year's summer solstice include:

Top female competitor Sarah Tomlinson (13 strong ascents!) who has already completed an astonishing 86 grinds this year, raising $2,322 for Grind for Kids
Jeremy Scudder (10)
Colin Pither (10)
Christine McDonald (6)
Melissa Searle (5)
Doug Mackinnon (4)
Each and everyone one displayed incredible grit that day. They also showed the joy that comes from trying to make the world a better place simply by becoming involved and doing something, no matter how small, to help others.
Annually over 150, 000 hikers from 7 to 90 years old with an equal male/female split participated in the Grind.
Sign up
for the Grind for Kids and make every Grouse Grind count! Get everyone you know to pledge $1 or more for every Grind you do between now and October to help raise a mountain of money for BC Children's Hospital.
I encourage you to come out, join the challenge, and gain hero status! The Multi-Grind Challenge will be back again next year on the summer solstice- June 21, 2015.