Thomas Haas Fine Chocolates Comes for a Snowshoe Fondue
Let the snowball wars begin!
Posted by Lauren Travan April 25, 2012
We love it when other North Shore businesses make time to come to Grouse Mountain for team building or adventure days. The staff of Thomas Haas Fine Chocolates are regular visitors to the Mountain, in summer during Grind season and in winter for snowy fun. One day in January twenty-six of them decided to brave the weather - and each other - for one of our popular snowshoe fondue packages.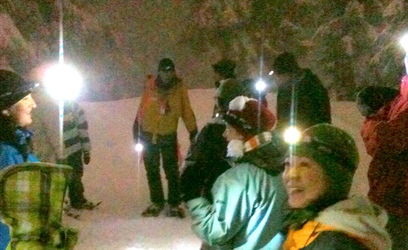 It's always nice to see a company's dynamics out of the office. This is a team that loves what they do and enjoys each other's company but - most importantly - no one in the team is safe from pranks. I can officially say that every member in the group was, at some point in the day, pushed into the snow or pelted with snowballs from great distances. I even recall one guy losing his pants for a few seconds thanks to a mischievous team member.

By the time the group had snowshoed to the bear habitat, their stomachs were starting to grumble but each team member's mission of getting back to the Chalet without being pushed face first into the snow (again) was definitely top priority.

The group wrapped up the evening with a fondue dinner at Altitudes Bistro, where they enjoyed a few glasses of wine and shared some laughs. We look forward to seeing the team from Thomas Haas on Grouse Mountain again and thank them for sharing their photos and experience with us.
Great team, great laughs and great chocolates!