Trail running and Yoga cool down!
Week 9 of Seek the Peak training

Posted by Sacha DeVoretz June 7, 2013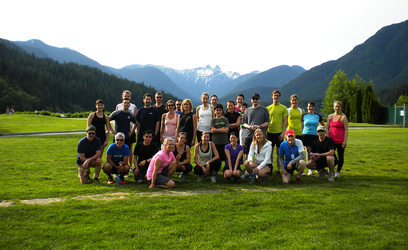 It was a beautiful evening for this week's training. The group met at the Cleveland Dam under the Whistler Water tent.

Lynn from Grouse Mountain was there with a big smile to meet the group.

We had a short briefing which explained the route we would be running of approximately 5km and then a yoga cool down. Our run would be the same route as we did in the first week of our training. It is hard to believe we only have one more night of training to go!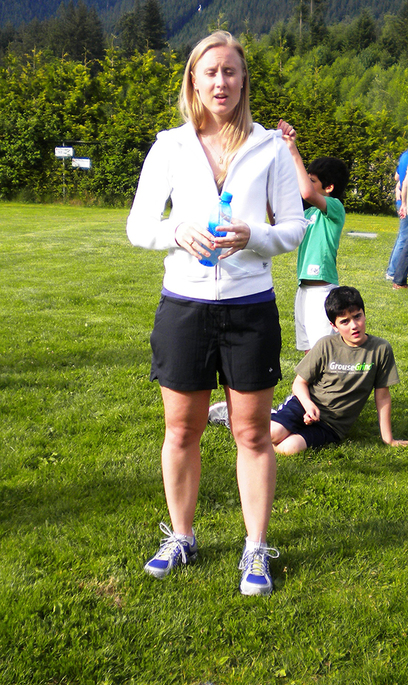 Danielle had a great Don Cherry t-shirt on that could not be missed. Danielle had a big smile on her face and great energy for the run ahead.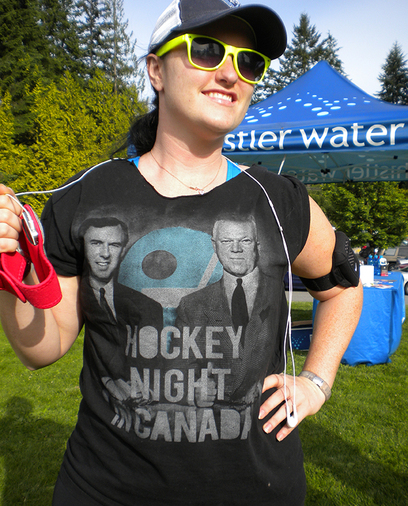 The run was so gorgeous. The Capilano Pacific trails have some steps, lots of hills and of course, downhill. A good mix of everything. What always amazes me is how beautiful the trails and nature are in this part of the north shore.

We ran out for half of the run and turned around to run back. As I was still running out, there were people on their way back and we were cheering each other on.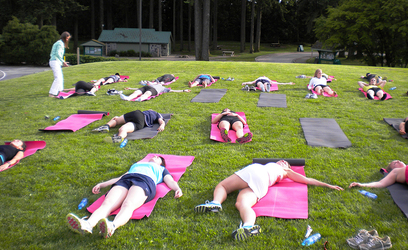 After the run we had a fantastic cool down. Doing yoga outside is so special and when you can view Grouse Mountain from your mat it makes it even better.
Next week will be our last week of training. We will be running the last leg of the race course at the very peak of Grouse Mountain, followed by a talk which will explain more about what we can expect on race day.
With race day fast approaching, you are invited to support this important cause. All fundraising money will be going to the BC Cancer Foundation which is the leading Breast Cancer research in BC. If you're interested in donating you can
click here
.
Thanks everyone.
Have a great week!
Sacha