Winter Survival Corporate Adventure
Who says building a snow shelter can't be work related?
Posted by Lauren Travan March 9, 2012
During one of Grouse Mountain's record high snow dumps this season, 70 eager software engineers from MacDonald, Dettwiler and Associates Ltd. (MDA) braved the alpine snow conditions to come together for a unique team building experience. They got away from their desks and computers and out into the wilderness to learn about winter survival - and have some fun in the process.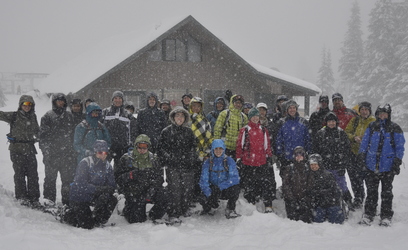 The group ventured on an hour-long snowshoe tour through the 400-year-old alpine forest where our experienced guides outlined wilderness hazards and tips on what to look for to avoid them. They were also shown some nifty places they could potentially 'crash' for the night if they ever found themselves stranded in the wilderness.
The group was then split into teams and set with the challenge of building a functioning snow cave using the surrounding area. We did help them out a little and gave them a few shovels. One team added a hot tub to the shelter so they could take a load off and chill out after the strenuous activity of building it (and ambushing other teams with snowballs). Another team showed friendship and the spirit of Canada by building an inukshuk.. perhaps that was more of a peace offering (or surrender) to avoid becoming a target of the flying snowballs coming from the hot tub crew - unfortunately their plan was unsuccessful.
'Thank you thank you thank you for an amazing event! Everything came together so perfectly and the staff were just awesome. We have a lovely time, the food was terrific!!!' Laura – Event Organizer from MDA