An Interactive Art Program in the Eye of the Wind!
Meeting Planners International decided to make their day at Grouse Mountain extra special.
Posted by Lauren Travan May 28, 2012
On Thursday 17th May, Grouse Mountain hosted a group of meeting planners from around BC. They had a full day of activities planned at various locations around the city, and Grouse Mountain was selected as one of the venues because of its unique Hiwus Art program, one of our Corporate Adventure Training Adventures.
Armed with running shoes and thinking caps on, the group split into 3 smaller groups and was challengeed with creating a team canvas - a canvas that expressed each team's identity. First Nation's identities were offered as inspiration by our onsite facilitator, but the view from the Eye of the Wind truly unlocked the artists within. Yes, this activity was done entirely inside our viewPOD at the top of the Eye of the Wind.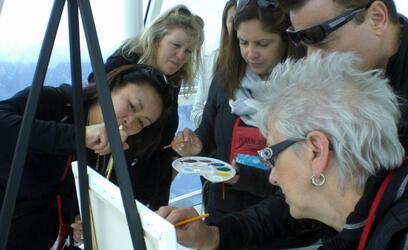 At lunch the groups each nominated a team member to describe their piece and its relevance to the challenge set by our adventure team.
The bears were putting on a show, the snow created some laughs and the groups came together to create some really impressive pieces! See below