Owls of Grouse Mountain: Whooo's Whooo
Posted by Grouse Mountain August 28, 2018
The Grouse Mountain Refuge for Endangered Wildlife provides a safe and secure sanctuary for at risk wildlife. It is home to many species, both resident and wild. Through research and education programs, the Refuge furthers wildlife conservation and appreciation.
Read on to learn more about Cleo and Blizzard, Grouse Mountain's Barn owl and Snowy owl residents. They are two of eleven owl species found on the south coast of British Columbia.

CLEO — BARN OWL
Cleo, a female Barn owl, was born domestically in spring 2011. She was hand-raised at Pacific Northwest Raptors in Duncan, BC.
You can tell she's a Barn owl from her distinctive heart-shaped face, and her white and brown speckled body.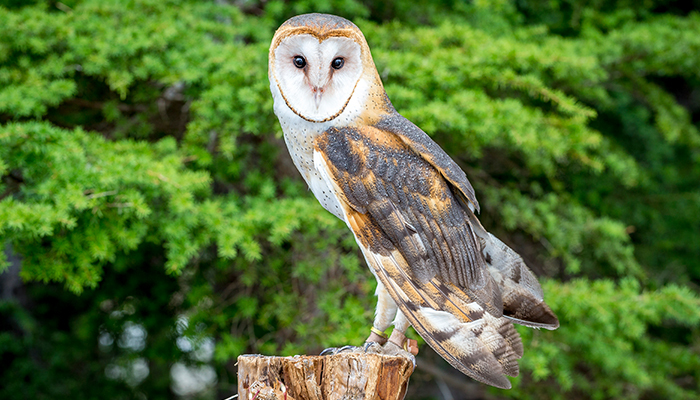 Barn Owl Facts
Species name? Tyto alba — from the Greek word tutu for 'owl' and Latin word alba for 'white'
Where do they live? Open areas such as grassy fields, old agricultural fields, meadows and wetland edges, farms, and rural towns. During the day, Barn owls often roost in evergreen trees and barns.
What do they eat? Small mammals. A nesting pair of Barn owls with six owlets can eat up to 1,000 mice in a single three month nesting period!
When do they hunt? Barn owls are nocturnal which means they are awake and hunt during the night.
Conservation? In British Columba, Barn owls are a species of special concern. This means they are considered at risk, but not imminently endangered. Their main threat is from loss of habitat from farm land converting to housing or high-intensity greenhouse farming. A secondary threat is the use of pesticides (especially rodenticides), which can cause death or create reproduction issues like inconsistent densities of egg shells.
Blizzard — Snowy Owl
Blizzard is a male Snowy owl. He was born domestically at the Valley Zoo in Edmonton. You can tell he's a Snowy owl from his large white and dark speckled body, and his yellow eyes.
Snowy Owl Facts
Species name?
Bubo scandiacus — from the Latin word bubo for 'owl' and scandiacus for 'Scandinavia'
Where do they live? Snowy owls are found throughout the northern hemisphere in North America and Eurasia. They spend their summers on the arctic tundra for breeding season, before migrating south for winter at lower latitudes, including the south coast of British Columbia.
What do they eat? Lemmings, other small rodents, and birds. Because their stomachs have strong acid, snowy owls can eat small prey whole, and then regurgitate anything that doesn't dissolve (bones, teeth, and fur) as pellets.
When do they hunt? Snowy owls are diurnal, which means they are awake and catch their food during the day.
Conservation? The International Union for Conservation of Nature (IUCN) considers the Snowy owl to be a vulnerable species. This means that they are likely to become endangered unless threats to their survival and reproduction improve. Human pressures from hunting, infrastructure in flight paths (like utility lines, wire fences), and changes in habitat and food resources as a result of increasing global climate change cause issues for the Snowy owl.
Meet the Owls

Interested in learning more about owls at Grouse Mountain? Visit an
Owl Interpretive Session
during your next visit to the Mountain. Our Wildlife Rangers would love to tell you more.
Are you a teacher or student group leader? Guided wildlife
Education Field Trips
can include an owl visit as one of your three activities.