We're hard at work at Grouse Mountain!

Plenty of exciting upgrades as we get ready to launch summer at the Peak of Vancouver

Posted by Jacqueline Blackwell May 15, 2014
Spring has arrived! The end of the winter means it's time for a little 'housekeeping' here on the mountain as we wrap up the snow season and get ready to launch our summer activities. We're so excited to welcome sunshine, fantastic events and, of course, plenty of family-friendly fun! Looking ahead to the summer, our mountain operations team has been hard at work to ensure the Grouse Mountain visitor experience is the best it can be.

Our Red Super Skyride has reopened after a three-week tune-up during its annual maintenance.
The staircase and deck that extends from the top of the Grouse Grind into the Peak Chalet has been replaced. You'll also notice that our Grind Timer at the top has a new home on this deck…so don't be concerned when you see it missing from its former spot.
In recent weeks, our friends at Metro Vancouver have also been hard at work re-building and re-grading sections of the Grouse Grind to ensure it's in top-top form heading into the Grind season.
In response your feedback, we're upgrading our parking facilities to serve you better. Scheduled to open very soon, the resurfaced and re-graded lower lot will feature reduced parking rates ($2 for 3 hours, $4 for the day or an annual parking pass for $40) and will maximize space to ensure our guests can park conveniently close to our lower plaza area.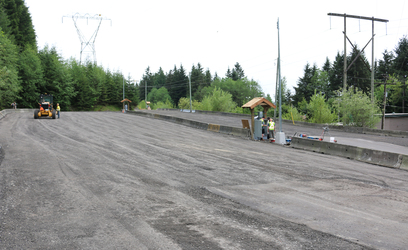 We've heard from you that safety enhancement in our lower parking area is an important concern, so we're installing adequate lighting and providing additional security and service patrol to ensure you feel secure in this area from day to night. Included with these enhancements will be state-of-the-art parking machines, providing our visitors with an opportunity to simply pay by phone (coming soon) or by using a machine in a few simple steps.
We're committed to decreasing our impact on the environment, supporting our community and maximizing healthy options for our guests! As part of our
Blue Grouse
initiative, we are always looking to provide alternative transportation options. So if you're looking for another way to get here, Grouse Mountain is also easily accessible via
two public transit routes
, including a direct bus that conveniently stops in our plaza area. In addition, we're pleased to offer
designated spots for all of the region's major car-sharing options
(car2go, zipcar & modo) and a
complimentary recharge station
for electric vehicles. For bike enthusiasts, we have three new
bike racks
at the base.
It's our hope that these improvements will make your visit to Grouse Mountain a convenient and enjoyable one and look forward to seeing you soon at the Peak of Vancouver!