Win the Ultimate Golden Ticket
Tell us why you Y2Play for your chance to win the once-in-a-lifetime $10,000 grand prize.
Posted by Grouse Mountain February 21, 2013
Ever dream about spending the ultimate year at Grouse Mountain? We will be giving one lucky Lower Mainland resident the chance to make that dream a reality. We are giving away a one-of-kind Golden Ticket - 365 days of VIP access plus a huge array of priceless perks.
From private first tracks and reserved parking, to a 'tram surf' atop the Skyride, front of the line lift privileges and 20 other unique experiences valued at over $10,000. This is the first time in 86 seasons that Grouse Mountain has extended such an all access opportunity.
How to Enter
Simply log on to Grouse Mountain's Facebook & Twitter and post your answer to the question: "Why Do You Y2Play?" with a photo and a 100-word or less paragraph. Entries must be received between Feb. 22nd and Mar. 7, 2013.
Vote for Your Favourite
Five entrants will be selected to go on to the final round where each will star in a short video illustrating why they Y2Play. Between March 18-27, these videos will be voted on by members of the public, a select panel of judges and Grouse Mountain before one lucky winner of the unforgettable Golden Ticket is declared on March 28th, 2013. The top 5 finalists will also receive a 2013/2014 Adult Y2Play pass (value: $359).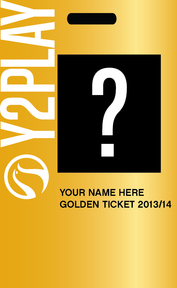 The Grand Prize Winner gets ALL of this:

Winter Season Pass (expires at the end of 2013/14 winter season)

Annual Local's Pass (expires March 2014)

Reserved Parking for 1 year

Private First Tracks and breakfast for you and 1 friend

'Tram Surf' on top of the Skyride to the top of the Mountain

Front of Line Privileges for the Skyride and all lifts for 1 year (and you can bring a friend)

Blackcomb Aviation Helitour of The Lions and downtown Vancouver for you and a friend

North Shore Tandem Paragliding experience for you and a friend

Order of our famous nachos & a beverage every month for the whole year from Altitudes Bistro ($20 per beverage limit)

Tasting Menu Dinner at The Observatory Restaurant for you and a friend

Mountaintop Zipline and The Eye of the Wind experience at sunset for you and a friend

Private Ski or Snowboard Lesson with the Director of the Grouse Mountain Snow School

Private Freestyle Lesson in our Terrain Park with a resident expert skier or rider
Unlimited Snowshoe Rentals for you (winter season only)
Snowshoe Fondue for you and a friend
Groomer for a Night behind-the-scenes experience for you and friend
Unlimited Skate Rentals (winter season only)
Wildlife Ranger for a Day experience for you and a friend
Lumberjack for a Day experience for you and friend
Avalanche Skills Training Course for you and a friend
1 Ski or Snowboard Wax
1 High Performance Gear Rental
1 Giro Helmet and 1 pair of Oakley Goggles
Complimentary Entry into Grouse Mountain Events for 1 year
Total Grand Prize Value: Over $10,000
Grouse Mountain's Y2Play is the best value snowpass on the continent that allows holders to ski or ride for the rest of this season and all of next for up to 80% off. Quantities of Y2Play passes issued by Grouse Mountain are limited and they sell out every year.