Adventure Day Camps
Pathfinders (5-7) & Alpine Blazers (8-12) Can Explore the Mountain & Have Fun in Nature's Backyard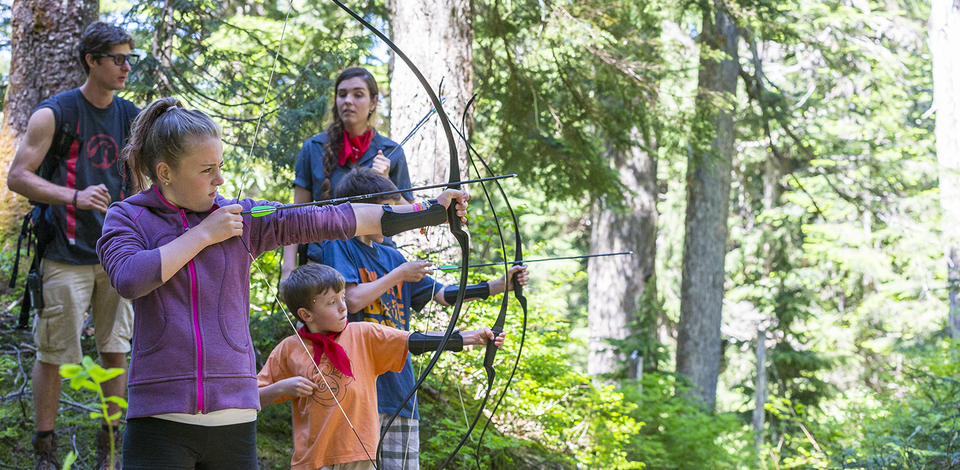 alpine blazers 1 day camp - ages 8-12
Experience the magic of the Mountain! Led by our experienced Grouse Mountain Camp Leaders, our camps offer a unique world of excitement. This fun and active experience for kids will teach outdoor survival skills, environmental awareness/appreciation, cultural awareness and knowledge of wildlife biology.
These are all individual one-day camps.
Dates & Times
Tuesday, September 8
Wednesday, September 9
Thursday, September 10
Friday, September 11
9:00am-4:30pm

Price:
$75 per day
Daily Camp Themes & Highlights
Camp Day

Daily Theme

Activity Highlights

Monday

Wilderness & Survival

Shelter Building

Archery

Survival skills & orienteering

Tuesday

Soaring Adventures

Behind the scenes with the owls

Disc Golf

Peak Chair Exploration

Wednesday

Ranger for the Day

Behind the scenes with the bears

Explore and taste an edible garden

Animal tracking

Thursday

Uniquely BC

Scavenger hunt

First Nations Stories & Activities

Axe Throw

Friday

Mountain Exploration


Capture the Flag

Hike to the secret Waterfall
Camp Check-in and Out

Camp check-in is at the base of the Mountain from 9:00am-9:30am. Please proceed, in your vehicle, to Parking Lot B and park. You will check-in with a Camp Leader at the designated sign and be assigned your camp number and leader.
Check-out is from the base of the Mountain from 4:00pm-4:30pm. Please proceed, in your vehicle, to Parking Lot B and check-in at your assigned number.
What to Bring
• As Mountain conditions change rapidly, dress your child in layers and appropriately for the weather.
• Camps run rain or shine and activities will continue outside in the rain, please included waterproof jacket and pants.
• Closed toed shoes. We recommend hiking or running shoes. No sandals.
• A mask or face covering for the child (required to be worn on tram and anytime distancing cannot be maintained)

• We recommend packing sunglasses, sunscreen, a hat and extra socks.
• A reusable water bottle.
• If you did not purchase a food during registration, please provide your child with a lunch and snacks. Camps are a 'Nut Free' zone, please help us keep campers safe and refrain from including any food containing nuts.
Registration and Availability
Registration cut off is the Wednesday prior to the first day of camp, subject to availability. Call Guest Services at 604.980.9311 to register.
For more information on Camps please visit our Frequently Asked Questions page