Seek the Peak 2014
In support of the BC Cancer Foundation
Posted by Alex DiCenzo July 10, 2014
This year marks our 11th annual Seek the Peak presented by Columbia, and once again the event was one to remember.
Starting by the shore participants were pumped up for their 16-kilometre climb in a morning celebration at Ambleside Park! Racers young and old cheered each other on as they set off from the start line.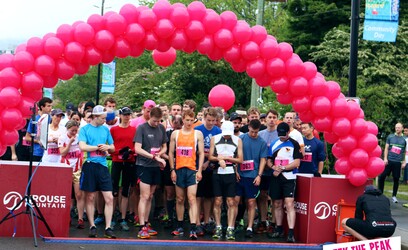 Racers tackled the awe inspiring 4100ft climb head on, making their way through the Capilano Pacific trail, up Nancy Greene Way to the Grouse Grind ending with a gruelling last leg to the Peak of Grouse Mountain and back down to the chalet- what an amazing feat!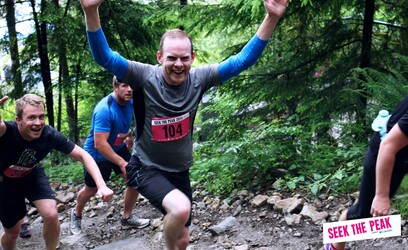 As racers crossed the finish line, they were greeted with medals and a carnival-style party on the Alpine Plaza that also included yoga and physiotherapy treatments from City Sport Physiotherapy. Volunteers, racers, bystanders, and even Griswald the bear all joined in to celebrate the major accomplishments made through this year's Seek the Peak presented by Columbia.
With breathtaking time of 1:23:37, this year's Seek the Peak title goes to Victoria's
Shaun Stephens-Whale
with the lead female,
Kim Magnus
not far behind at 1:35:08. In the relay category Team Dignums conquered the course with a time of 1:25:35. You can check for all racers' official times
here.
The day ended with inspiring words and thanks from Grouse Mountain's general manager Michael Cameron and BC Cancer Foundation's Christine Basque.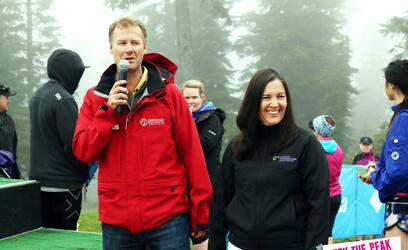 All said and done, more than 700 racers tackled the 16-kilometre climb from West Vancouver's Ambleside Park to the Peak of Vancouver and raised almost $40,000 for the BC Cancer Foundation. This was no easy course, and whether racers were tackling it alone or as part of a relay team, they all earned bragging rights.
Be sure to check out the Grouse Mountain Facebook Page for more photos from Seek the Peak 2014 and save the date for next year's Seek the Peak- June 13, 2015