VASS and Grouse Mountain
Posted by Lauren Travan March 23, 2012
I like to snowboard on week nights. It works better with my schedule and it's less busy. When I first started coming to Grouse Mountain for my evening sessions, my friends and I would see people in green jackets going down the Mountain with other people sitting on these crazy-looking skis. They would fly down the Cut with amazing balance and precision on what I now know are called "sit skis".
Little did I know then that Grouse Mountain has been supporting Vancouver Adaptive Snow Sports (VASS) for years. VASS runs skiing and snowboarding programs for people with disabilities, and their mission is to make the Mountain accessible for all. What I had been seeing is one of their programs for disabled skiers. Anyone who has seen these guys and girls in action would most certainly be impressed.
I was fortunate enough to be one of the Grouse Mountain contacts the 2012 VASS cup and decided to participate by being the DJ for the Dual Slalom race being held on the Cut. I sat in a prime position overlooking the gorgeous city of Vancouver and cheered on the racers and our Grouse Mountain Team. I sent the rest of my team in catering a picture of my newly located 'office' for the morning – I think they wished they had the view I had that morning! I also checked out the sledge hockey demonstration set up on the ice rink and bid on a few of the items in the silent auction being held in the chalet, I didn't win anything, but the buffet lunch helped soften that blow.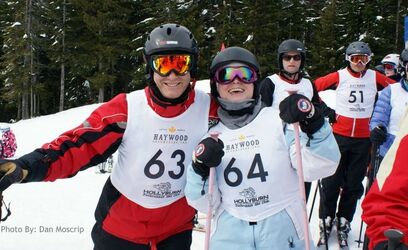 It's truly inspired me to see the athletes of VASS on the Mountain. Next time you visit during the winter months, keep your eyes open for VASS participants and give yourself a little smile knowing that the Mountain has been made accessible to all thanks to a long standing relationship between VASS and Grouse Mountain Resorts.